Hospitality industry trends have taken a giant leap forward in the past few years, and QR codes play a big part in shaping them. Long and awkward waits in line for a cheeseburger? Gone. Those plastic-coated menus that are always sticky? Forgotten.
QR codes are ushering in a new era of dining and hotel experiences, helping to speed up the ordering and payment process. Staff work efficiently, and customers leave happier. There's no questioning how powerful those little squares are. Not so sure? Join us as we highlight how QR codes can reshape your hospitality experiences…
Understanding QR codes
QR codes, or Quick Response codes, are your digital magic keys to winning the hospitality game. So, what are they? Compact and versatile, they may seem like random black squares on a white background. But these codes hold information, from menus to contactless payments. How do they work? When you scan one with your smartphone, you gain instant access to information or functionality.
Statista reports that from a survey conducted in April 2021, around 37% of respondents in the US and UK were willing to make QR code payments in restaurants or bars.
Why are QR code payments such a popular method for hospitality tech? Fast, secure and contactless, this technology checks all the boxes, streamlining dining and check-in processes for an A+ experience. Plus, they reduce workload and waiting times, enhancing efficiency for both guests and staff. So, the next time you scan, remember it's not just a code; it's a gateway to a smarter and more relaxed hospitality experience.
Benefits of QR codes for hospitality
With all the efficiency in mind, let's consider the rock-solid benefits of QR code technology with some relatable hospitality examples.
Contactless menus, enhanced experience
Have you ever wondered how your favourite eating spot keeps things running smoothly? Enter QR codes. Savvy restaurants use scannable codes at the table instead of those hefty, often sticky menus. And why wouldn't they? A quick scan with your smartphone opens the option to browse a digital menu and place multiple orders easily.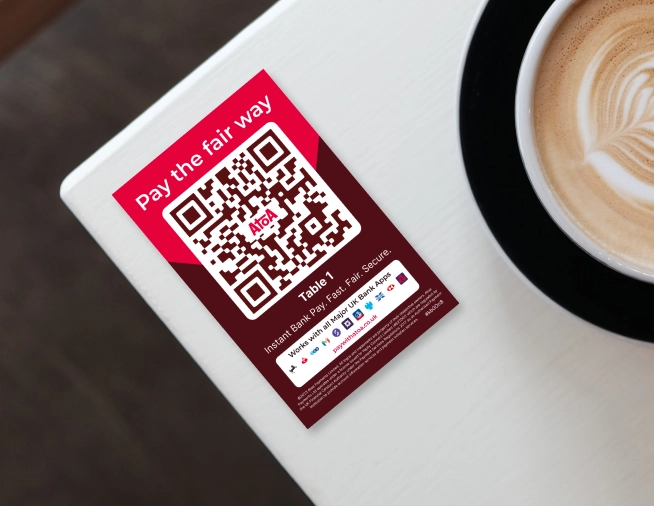 Scan to pay = no more card machines
Customers can order food and drinks quickly and pay using the QR code at their table. It's quite simply your secret key to hospitality efficiency!
A greener choice
Imagine dining at a vegan cafe that's about great food and sustainability. Instead of traditional printed menus that often end up as waste, they use QR code menus. Payments can be taken similarly, with a receipt sent directly to your phone or email.
Adding QR codes to a hospitality business
Choose a QR code provider
Several POS and hospitality payment providers offer QR codes fine-tuned for hospitality use. Plus, they come with lower fees than traditional payments. Be sure to consider any integrations you want to include and whether they are compatible. It's also a good idea to ask other hospitality operators what services they use for digital payments.
Get set up and running!
Whether it's a full-on tech install or a basic app setup-and-go situation, ensure everything is working, integrations (like mPOS) are in place, and you've done some testing.
Display your codes
Your provider should provide you with printable codes, such as stickers for your tables. Some integrations also offer the option to provide payment kiosks or on-screen ordering, which is particularly handy for fast-moving takeaway setups.
Take payment anywhere
And here's a bonus: QR codes can also be a fast, fair and secure payment method. They sidestep card processing to reduce fees and waiting times for your business. If your provider lets you add employees to take payments, make sure you make the most of this feature.
Take customer payments using codes printed on stands, stickers, receipts or shown on-screen. All they need to do is scan the code to settle up instantly. Check the video below to see just how easy it can be…
Take tips!
Great mocktail? Service with a smile after a long and dreary day? Leave a tip to show appreciation, choosing from most tipped or custom options.
QR code best practice
Appearance matters. Ensure your QR codes are clean, well-designed, and easy to scan. A well-kept code is more likely to be trusted by customers.
User experience is really important. Put them through their paces before going live with QR codes at your business. Test them on various devices and under different lighting conditions. You need to be sure that anyone – tech-savvy or not – can use the code without hiccups.
Safeguarding data is not optional! Prioritise data privacy and security by regularly updating and monitoring your QR code systems. Secure codes build trust and ensure a safe and worry-free customer experience.
Frequently asked questions
Why do hospitality businesses use QR codes?
Boosted by contactless payments during the pandemic, QR code adoption has continued due to their convenience across booking, ordering, payments and overall experience.
How do I use QR codes to pay in restaurants?
Scan the code at your table using your smartphone camera. This will open a digital menu where you can make selections and pay for your order. QR codes may also be printed on your final bill, allowing you to pay independently without waiting for card machines.
What if I don't have a QR code scanner on my phone?
Most smartphones have built-in QR code scanners in their camera. If not, you can download a free QR code scanner app from your device's app store.
Are QR payments secure?
Yes. They use secure and encrypted methods to collect funds. A2A payment apps like Atoa make transactions in the customer's banking app, making them as secure as your bank.
Are QR codes eco-friendly?
They reduce the need for printed menus and promotional materials, minimising waste.
Are QR codes in bars and restaurants here to stay?
QR codes in bars and restaurants are likely here to stay, as they offer convenience, efficiency, and safety for businesses and consumers.
The future of QR codes for hospitality
From lunchtime takeaways to high-end restaurants and hidden cocktail spots, QR codes will continue to reshape how we order and dine. Contactless payments through QR codes ensure secure transactions and minimise the need for rigid point-of-sale terminals. It's all about convenience and sustainability, so expect more streamlined systems to emerge, offering quicker service and more control over hospitality experiences.
Want to find one QR code payment option that won't break the bank? We offer you 14 days of completely free transactions when you first sign up. You can't pay fairer than that!