It's an exciting time of growth for the beauty and aesthetics industry, which is predicted to be worth a whopping 124 billion dollars globally by 2027. However, If you're part of this world, you'll know that managing health and beauty payments can sometimes take the fun out of it. There's so much to consider, whether charging for no-shows, taking deposits or dealing with high processing fees and clearing.
Our solution cuts through the faff and is easy to use! Atoa Business is a secure FCA-licensed service that connects to customers' existing mobile banking app to enable an account-to-account payment, instantly arriving in your business account.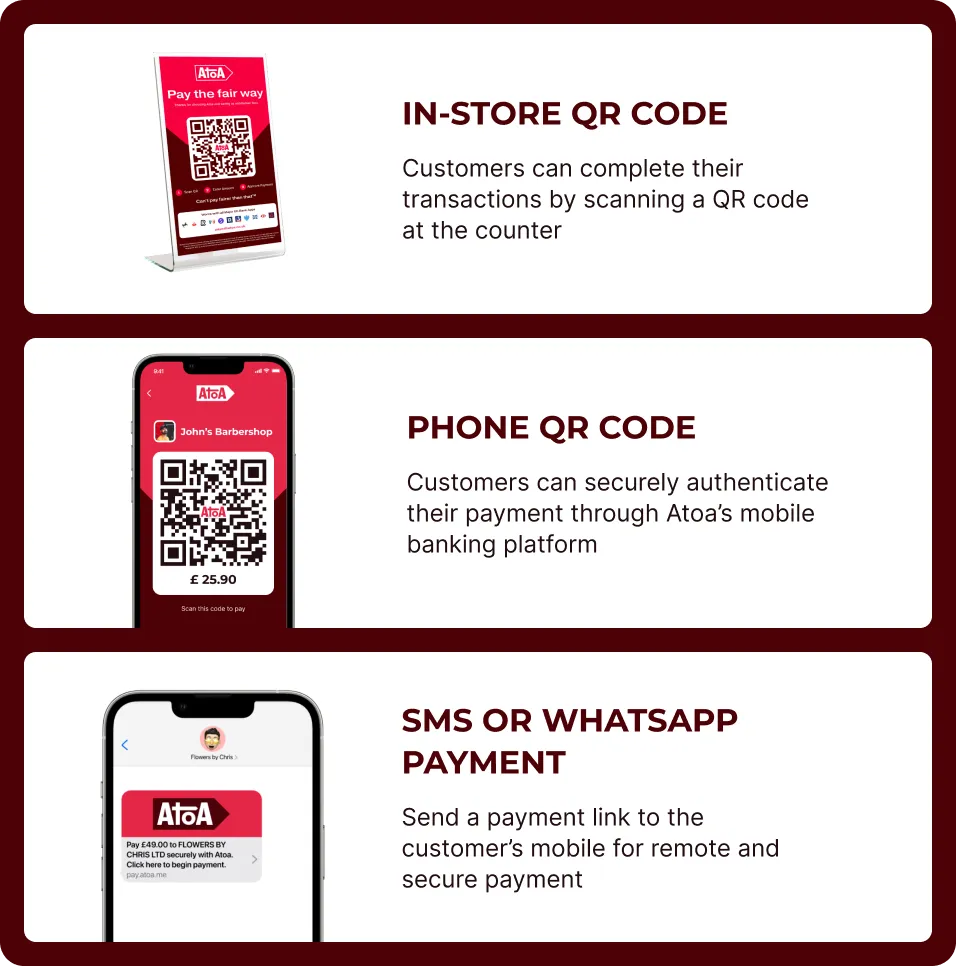 But what can it do differently for my hair and beauty payments process?
Improve cash flow. When customers pay with Atoa, funds arrive instantly into your business's bank account, reducing the time spent waiting for funds. This is helpful when you need to buy expensive stock ahead of treatments.
Reduce costs. Traditional payment methods, such as credit and debit cards, come with high transaction fees (sometimes up to 2%!) and hidden nasties like long contracts. We boast an unbeatable maximum transaction fee of 0.6% without any contracts or service fees, which will help your business save money without extra effort. Click here for an idea of how much!
Take payment here, there, and everywhere. It's easy to take QR code payments wherever you are, especially running a mobile beauty business. SMS and WhatsApp payment also allow you to send deposit requests before treatment or collect no-shows and last-minute cancellations fees.
Watch the video below to learn how The Beauty Wardrobe in Bradford experienced a 60-80% upturn in deposits after adding payment links to their payment flow.
Improve customer satisfaction. Customers often prefer convenient and secure payment methods, and guess what? Our app has them both figured out. Our instant payment methods are easy to encourage with customers who are loyal and therefore appreciate your services.
So, if you're running a salon, Atoa is the perfect way to manage your hair and beauty payments. You will save time, money, and hassle. Download the app today, and we'll give you 14 days of completely free payments as thanks for choosing us.
Do you need a little TLC or a quick chat about how Atoa works? Book a 15-minute call with Ivo by clicking the banner below or scanning the QR code.