Abandoned your cart because the payment options didn't float your boat? Fear not, as digital payments are booming! This streamlined approach is becoming the bedrock of modern business in a world that craves convenience and speed. Digital wallets make sending and receiving money easy and secure, whilst fintech startups continue to develop new and innovative ways to pay, making it harder for traditional methods to keep up the pace.
But first things first, what exactly is a digital payment?
Defining digital payments
They're quite simply all you need to pay in this fast-paced world. Instead of traditional cash or card payments, digital payment solutions send and receive money electronically. Usually, these are processed through smartphones, computers or digital wallets.
Now, let's break down why this is so important. Payments like these aren't just a trend but an essential tick box for UK businesses. They make transactions faster and smoother for customers and business owners, keeping financial records safe and secure.
So, if you're looking for new ways to boost your business's bottom line, keep reading. We'll uncover how choosing the right digital payment ecosystem can supercharge your operations and make painful payments a distant memory.
Exploring the benefits of digital solutions
If you're running a business in the UK, staying updated with digital payment methods is a must. Your customers want convenience, and let's be honest, your business needs fair payments, too.
Imagine you run a fast-food joint near lots of office blocks in Manchester. You tried table service with staff running back and forth with card machines, but now it's busy, and most people want lunch to take anyway. Digital payments allow customers to make contactless payments or, even better, order, pay and collect from the counter with QR code payment kiosks.
Staying secure in a digital world
But what about digital payment security? Every business owner wants to protect their livelihood, and electronic payments offer an extra layer of protection. Transactions are encrypted and monitored by the customer's banks and payment systems. Plus, real-time payment notifications make stopping suspicious transactions in their tracks a lot easier.
Electronic business payment solutions can also act as an automated admin assistant, keeping payment records for you in the background. If you run a business that demands strict inventory – such as an online clothing store – then digital payments help you to track sales and understand which products are hitting the spot.
Examples of digital payments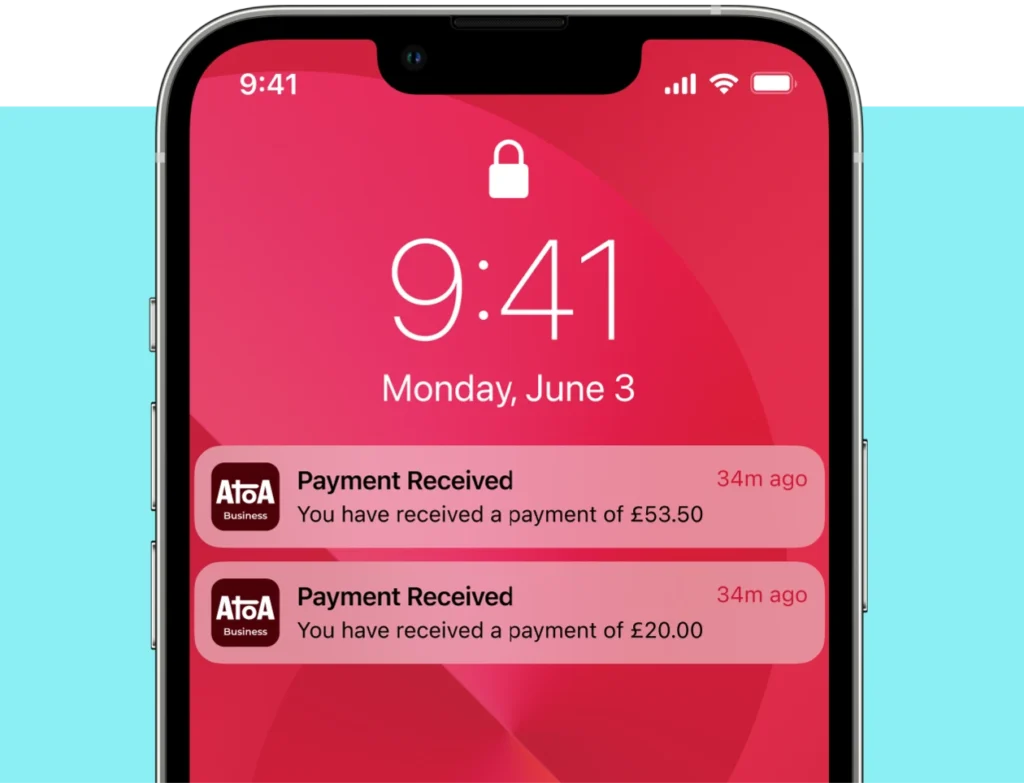 Mobile payment advantages
Your smartphone isn't just for selfies and cat videos—it's a sidekick for game-changing transactions. With mobile payments, customers can forget their wallets and still get that essential hazelnut latte. Just tap or scan with their smartphone, and your loyal customer can walk away with that delicious frothy beverage, making the morning sales meeting much more bearable…
Upgrade to digital wallets
It's like having a digital piggy bank that collects coins and helps you pay for things (without smashing it to smithereens). They hold your money securely while letting you shop online or send cash to friends.
Fintech innovations
Open banking brings financial freedom to your fingertips. You can check balances across your accounts, pay bills, and even set up automatic payments for shop rent or stock—all from the comfort of your till. Real-time insights into your spending habits are your new budgeting BFF.
Cryptocurrency adoption
The new face of finance is digital; it's decentralised and goes by "crypto." Showering some early adopters with digital gold used to buy anything from a cup of coffee to a Lamborghini…
The world of digital payments has infinite options, offering essential tools to make your life easier. Explore, experiment, and find what works best for you and your business. Just don't get left out in the cold!
Digital payment methods vs. traditional payment methods
By this point, you're probably considering a switch to digital payments. Digital payments are more convenient, faster, and secure than traditional payment methods and can help you attract new customers to grow your business. But of course, no journey is without its challenges.
Benefits of going digital
Switch to digital payments and watch your business grow! In-store and e-commerce payments get a boost when you go digital. Many customers now prefer to pay for goods and services using digital methods. Businesses accepting them allow customers to make purchases in a few taps, letting them get about their day that little bit easier.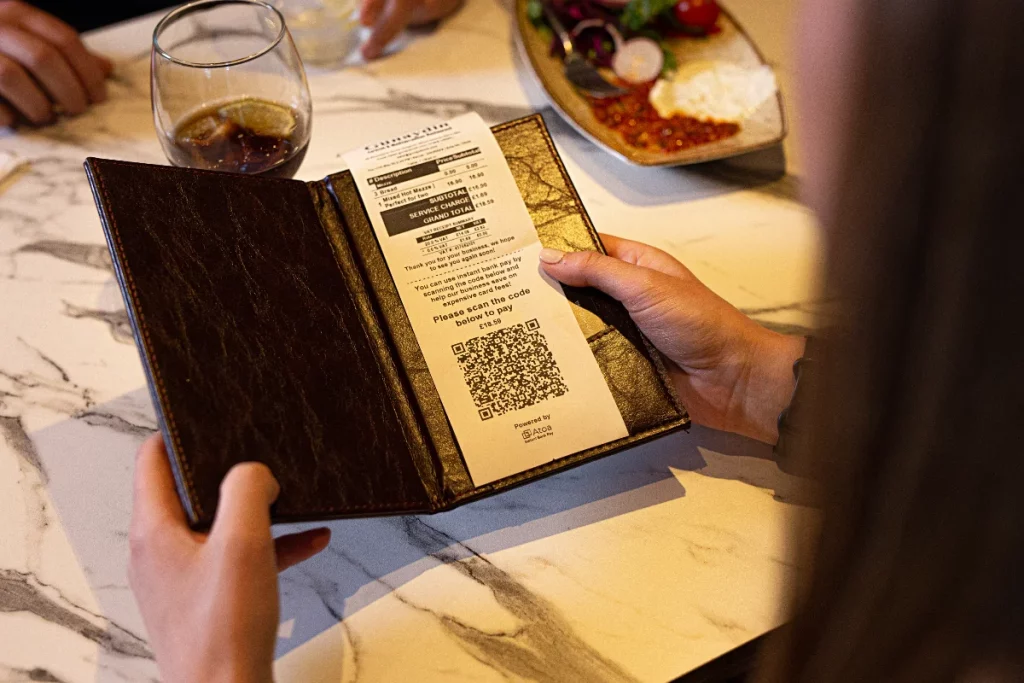 What about saving some hard-earned profits? Digital payments can cut your payment processing fees, saving you trips to the bank and the hassle of merchant accounts. Digital payments are also processed faster than traditional payment methods, giving your business better access to its funds. Consider the perks of Atoa, an instant bank pay platform for in-store and remote payments, also letting you add employees and export transactions. It's all about boosting your bottom line, after all.
Great payment power comes with great responsibility. You want your customers to trust you with their financial details, so choose secure systems with robust data security for your digital payments. Wink, wink.
Challenges of digital adoption in business
Choosing the right one. There are many digital payment processors, each with different features and pricing. Choosing one that's right for your business needs and budget is important. Start small, be flexible, and make paying easy for customers. Don't try implementing all the latest digital payment technologies in one go. Start by offering a few basic options and add more features later. Customer preferences constantly change, so it's important to be flexible and offer various payment technology trends, such as mobile wallets and peer-to-peer payment apps.
Educating your customers about digital payments is important. Some customers may hesitate to use digital payments, especially if they're not used to them. It's important to provide clear and concise instructions on using your digital payment system, making it easy to use and navigate. Services like Atoa offer user-friendly platforms and helpful customer support around the clock.
Integrating digital payments into your website or point-of-sale system can be a technical process, but most payment processors offer support and resources to help you get started.
Frequently asked questions
What are the different types of digital payments?
The main types include mobile wallets, peer-to-peer (P2P) payment apps, online payment gateways, and bank transfers.
Which type of digital payment is right for me?
It depends on your business needs. Consider convenience, security, speed, and rewards when choosing the right fit.
What are some benefits of digital payment methods?
Digital payments offer convenience, security, speed, and sometimes even rewards for you and your customers.
What are some challenges with digital payment methods?
Challenges include fees, security risks, and limited acceptance, which vary depending on your provider.
The takeaway
So there you go. Hopefully, that's the end of snail-paced payments and abandoned carts. By now, you should be more aware of secure digital payment methods and have a rough idea of what might be worth adding to your business. It doesn't have to be all bells and whistles, and there's a very high chance that cryptocurrency adoption won't even appear on your list, but the digital payment ecosystem is all yours to explore…
If you want to save time, Atoa Business can tick several boxes with instant in-store, remote and online payments. Our fees are low, you get funds instantly, and payments are made securely through your customer's banking app, meaning chargebacks are non-existent. Call our customer care team today for the full low-down and make digital transactions your new go-to…