Demand for tradespeople is at an all-time high, so business is booming, right? But if you're a tradesperson, you'll know that getting paid isn't always easy. Many customers are slow to pay, and some don't pay at all. But what if there was an easy-to-use cardless payment app to cut through it all?
Well, we've got some good news for you! Atoa is that app. Even better, it's designed with tradespeople in mind. Open banking is the game's name and helps us give you the best payment experience possible without the need for debit cards.
How can a cardless payment app improve my business?
We know you're always zipping between customers' homes and using your van like an office on wheels. Open banking apps let you accept payments anywhere without cards or cash machines. Show customers a QR code on your smartphone screen or send remote requests and advance payments such as call-out fees and deposits via SMS and WhatsApp.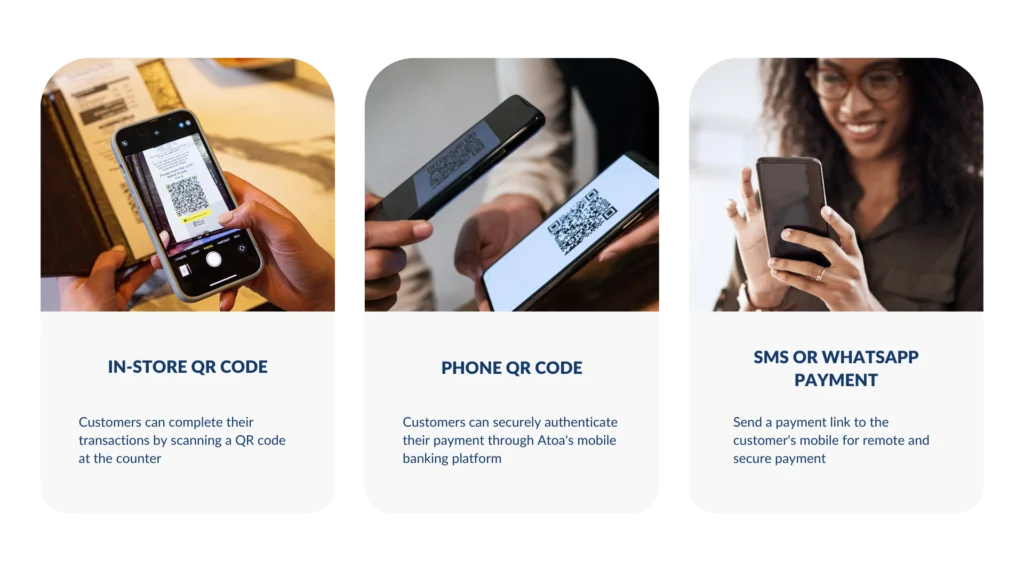 Fees are lower with Atoa…
Enjoy low transaction fees that never creep above 0.6% (but can fall lower with higher volumes!) For a £300 job, SumUp will charge you a surprising £5.07 in card processing fees or £7.50 on remote fees like an invoice or link payment. Atoa would only take a maximum of £1.80, regardless of how the customer pays. Find out how much more profit you can pocket here.
Want to boost your cash flow with secure instant bank payments?
Get paid on the spot and avoid late payments, which will help keep your cash flow steady and your business running more smoothly.
Remove the risk of chargeback fraud or disputes as all customer payments are fully verified by their mobile banking logins, such as fingerprint scans or Face IDs.
Are customers over the moon? Make the most of it by taking tips on the app. Your revenue could increase by 5-10%. A nice little win for the rainy day fund!
Manage your finances and export them so that you can focus on other areas of your business.
How can I start taking cardless payments?
Whatever your trade, Atoa is the perfect way to get paid faster. You can avoid bad debt and keep your business running smoothly, allowing you to take home more of what you earn! You did the work, so you deserve the reward.
So don't hesitate to ditch the card machine today! In return, we'll give you 14 days of free instant transactions as a thank-you for choosing Atoa.