Are you wondering how to accept credit card payments without the hassle of a merchant account?
We get it. Accepting card payments is a big deal. But you no longer have to deal with old-school merchant accounts (unless you really want to).
We're here to help you explore some user-friendly alternatives and find a more beneficial payment solution. We're about to introduce you to game-changing payment gateways and mobile payment apps geared toward making your business flow better and your customers happier.
Why wait? Let's dive in!
Payment gateways vs. merchant accounts
What is a merchant account?
A merchant account is your business's own personal account, where funds from card payments are temporarily held before being transferred to your business bank account. It's essentially your waiting room for card transactions.
The funds are deposited into your merchant account after a successful transaction (thanks to the payment gateway). From there, they go through a process called "batching," where multiple payments are grouped. Finally, the batch is settled, and the funds are transferred to your business bank account.
How do merchant account payments work?
A customer buys something from your business using a credit or debit card.
The payment gateway encrypts and sends card data to the payment processor.
The processor checks the customer's bank has enough money and no issues.
If all's good, the bank gives a thumbs-up.
Transaction approved! Your system gets a green light to complete the purchase.
Approved funds sit in the merchant account briefly.
At the end of the day, approved transactions are grouped for batch settlement.
The processor moves funds to your merchant account.
Finally, your earnings go into your business bank account!
Drawbacks of merchant accounts
While merchant accounts can be easily set up, secure, and convenient, they come with a few bug-bears.
As well as payment fees, merchant accounts charge hardware, compliance, and setup fees.
It can take several days for the funds from a credit card transaction to reach your merchant account and then your business account, as the transaction has to be processed by the credit card company first. Nobody wants to be in a waiting room for too long, right?
Setting up and managing a merchant account can be complex and time-consuming.
When considering payment solutions, carefully weigh the pros and cons of each and compare different providers to find the best deal for your business. If your search isn't coming up with the goods, opt for other merchant account alternatives.
What is a payment gateway?
A payment gateway is a digital bridge between your online store or point-of-sale system and the payment processor, securely transmitting transaction data from your customer to your merchant account.
When a customer makes a payment online or in-store with a card, the payment information is sent to the payment gateway. It then encrypts the data, sends it to the payment processor, and receives the authorisation or decline message. If all is well, it's a green light for the transaction.
How do payment gateways work?
When you accept credit card payments, the process can seem a little more complicated than debit cards. Here's what usually happens behind the scenes:
Your customer swipes their card.
Your credit card processor sends the transaction to the credit card interchange.
The interchange routes the transaction to the customer's issuing bank for approval.
The money is deposited into your merchant account if the transaction gets the green light.
Finally, the funds are transferred from your merchant account to your business bank account.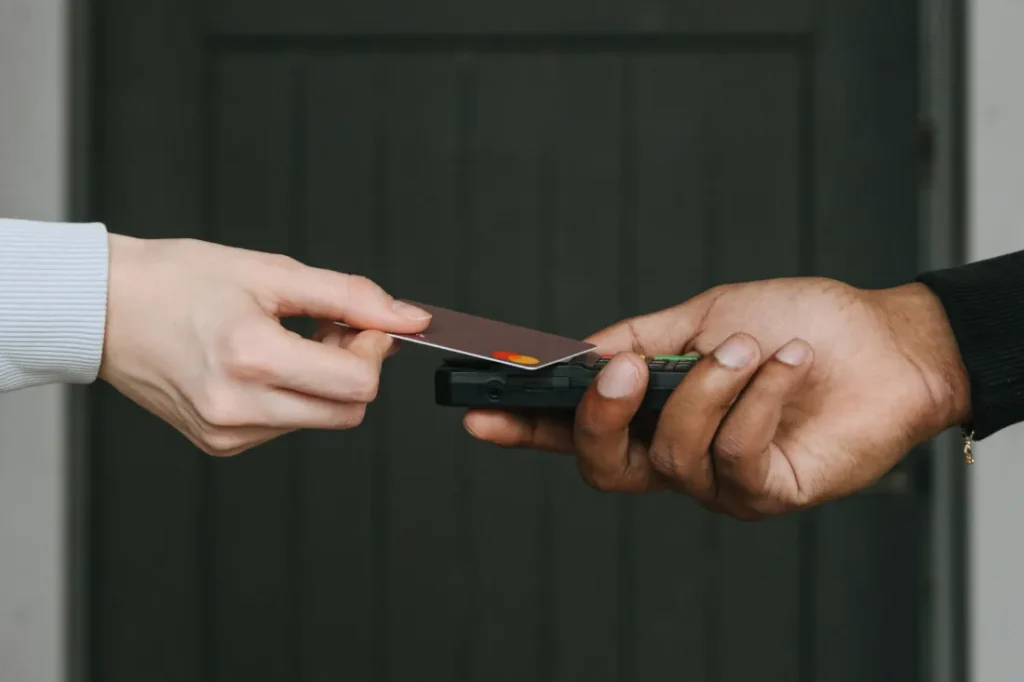 Drawbacks of payment gateways
Payment gateways often come with fees. You'll typically encounter transaction fees, monthly fees, and sometimes setup or integration costs. These expenses can eat into your profits, especially for smaller businesses.
Payment gateways are not immune to chargebacks, which can be time-consuming and expensive.
They can be vulnerable to data breaches if not properly protected. Any violation of customer payment data can lead to costly legal and financial consequences, not to mention damage to your brand's trustworthiness.
Integration can be tricky, especially for businesses with complex systems or switching between payment gateways. Technical issues, glitches, or downtime can disrupt your operations and frustrate customers.
Some payment gateways have limited payment options, which can be problematic if you want to stay on top of evolving digital processing trends.
Payment gateways may hold onto your funds before transferring them to your business bank account. This can affect your cash flow, especially if you rely on a steady stream of payments.
Staying compliant with the Payment Card Industry Data Security Standard (PCI DSS) – is necessary. Ensuring your business adheres to these standards can be complex and may require additional time and resources.
Mobile payment apps: convenience for all
Imagine having the power to make payments with your smartphone – anytime, anywhere. Mobile payment apps allow customers to make payments without a bulky wallet. Even better, card machines no longer hold back businesses like yours! Not only are they easy to use, but they're super secure, too!
How do mobile payment apps work?
Starting is easy! Download the app, create an account, and link your bank account within minutes. Once everything is set up, payments become like clockwork.
👉 For in-store purchases, it can be as easy as customers scanning a QR code to pay!
👉 Accepting payments online? Businesses can integrate mobile payment plugins into their app. Customers can then choose the payment method at checkout and pay instantly.
Why choose mobile payment apps?
Convenience: No more wallets or card machines breaking down; just your smartphone collecting funds.
Security: Biometric checks and security features keep your transactions bank-level safe.
Rewards: Many apps come with rewards programs, so you and your customers can earn points or cashback on payments.
How to get started with mobile payment apps
Once you've researched merchant alternatives and pushed payment gateways aside, it's time to decide on a mobile payment solution and hit the ground running.
Most payment apps follow a simple setup process:
Download your chosen mobile payment app to your trusty smartphone. You might consider Apple Pay, Google Pay, or the newest line-up member, Atoa!
Create an account and link up your business bank account.
Complete verification with personal and business documents.
It's time to start using the app to accept payments!
Make sure you lock your account with a sturdy passcode or a face or fingerprint scan. Keep your app in its best shape with software updates. Oh, and not all mobile payment apps are created equally – don't forget to peek at the fine print for any fees that might pop up!
The takeaway
In 2022, debit cards were the most popular method in POS transactions, accounting for 47% of transactions. If you can find a low-fee and easy-to-use mobile payment app that accepts your debit card payments, maybe it's time to wave goodbye to the headache of merchant accounts. Choose simplified payment methods instead!
Fast, fair and secure mobile payments are our bread and butter. If you want to start off on the right foot or switch to a provider that puts your business first, why not call Conor for a quick demo and discover how Atoa can help process payments without a merchant account?