QR code payments are all the rage right now. Why? They offer the convenience and security that many people and businesses desire. In recent years, the UK has experienced a rise in small business payments using QR codes fuelled by open banking.
More than just a handy way to see the menu or order, customers can leave their cash or cards at home and scan to pay with their smartphone, providing a convenient payment experience that keeps costs low for businesses. All the customer needs to pay is their smartphone, offering seamless and secure transactions adapted to our ever-evolving digital landscape. This article will explore some QR code payment solutions available to businesses to help you get started.
What is a QR code payment?
Designed by a Japanese manufacturing company called Denso Wave back in 1994, Quick Response (QR) codes are essentially 2D bar codes that can be scanned with a smartphone camera to open web links or apps. Several UK open banking companies now offer the service to businesses to collect funds, usually generating the codes through apps or custom-printed materials like stickers or stands. Once a provider is chosen, the business owner can link their bank account to enable account-to-account (A2A) transfers.
QR code payments have revolutionised how we handle transactions, putting convenience first for customers. Imagine standing in line waiting for that morning caffeine fix at your local coffee spot. In the past, you'd have to dig through your wallet to count out cash or clutch for your card, hoping the cafe would accept it. But with QR code payments, use that smartphone (that's probably already in your hand!)
For the customer to pay this way, they scan the merchant's unique QR code containing their business bank details. This triggers an A2A transfer request through the customer's banking app, sharing the payment details and performing a biometric security check to approve transactions securely. This method massively reduces the risk of payment fraud and disputes, as the payment has been performed with a face or fingerprint scan, protecting you from unexpected chargeback fees.
Keep it contactless
As of November 2022, the total number of transactions made using contactless cards in the United Kingdom amounted to over 15.4 billion. QR code payment methods are predicted to lead this trend by developing secure digital transactions to provide business owners access to reliable, cost-effective solutions.
Reliability means that QR code payments are accessible to many users. Whether you're tech-savvy or just getting started with digital payments, the learning curve is gentle. As we embrace the digital age, remember that QR code payments are more than a passing trend. They're a secure and flexible choice for modern contactless payments that shouldn't be ignored.
How do QR code payments help small business owners?
QR codes provide an incredibly convenient way to generate secure digital transactions. The tech and hardware shopping list is minimal. You don't usually need more than a smartphone app to generate them, making access and integration lightning-fast. Imagine you've set up a food van and want to start serving immediately. Fire up your chosen app like a grill, generate a QR code, and get that money!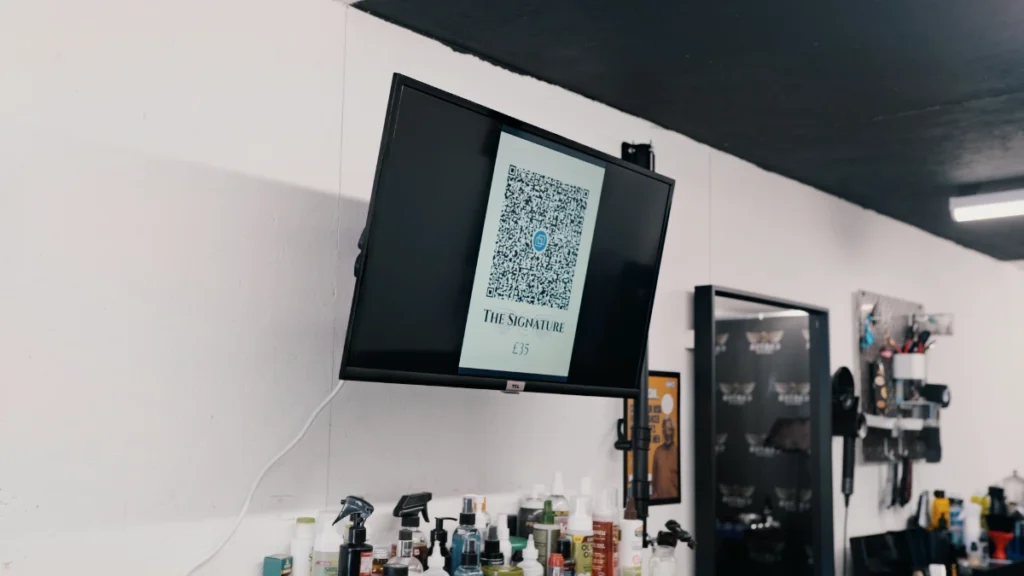 QR codes offer a flexible way to pay, too. You can print them, add them on stickers and stands, or rapidly display them to customers on a smartphone screen. One of our barber customers – Carter Creative in Manchester – uses our QR codes on a wall-hung monitor so his clients can scan from the comfort of the chair, as shown above.
If customers can see the menu and make an order with them, then why not just pay, too? By saving on card processing fees, they're a much cheaper payment solution for small businesses with instant settlement also offering a real cashflow boost.
Why are QR code payments cheaper?
A2A payments and QR codes work in harmony. So, as well as ditching their card machine, businesses can cut out the steep transaction fees that card payments bring. Get rid of that ball and chain! Remove the processing and clearing stages to release funds instantly with reduced transaction fees. If you're looking to cut costs, QR code payment providers, especially those with A2A payments (wink, wink…), are a wise move.
Are QR code payment methods safe?
Very. QR code payments use A2A technology to trigger your customer's banking app, which releases funds. Before any payment can be approved, they must confirm their identity using their banking app's biometric security (face or fingerprint ID). Find out more about A2A payment security here.
How can my business use QR code payments?
Businesses can present a QR code on a screen or kiosk. Alternatively, QR codes can be presented on stands and stickers with custom prices so the buyer can scan the code to complete payment.
For instance, a hospitality business might print QR codes on their receipt for payment, allowing customers to pay without waiting around for the card machine. Bill splitting chaos is reduced as customers scan the code to pay their share in seconds.
Similarly, a beautician can take payment for treatment anywhere in the salon by simply showing a QR code on their smartphone screen.
Let's talk money. Traditional payment methods often come with hefty transaction fees that can take a bite at your profits. Instead, customers scan to make an instant and secure bank transfer and sidestep card processing fees. There is less chance of chargeback fraud or dispute, as the customer is securely verified by their banking app for payment approval.
QR codes make remote payment requests a doddle. Add them to invoices to complete the payment with a quick scan. Most QR code payment providers also offer payment link options, making upfront payments like deposits a walk in the park.
These are relatively new ways to pay, so if you're struggling to prise customers away from debit cards, why not explain to your loyal shoppers how much payment alternatives like this help you out?
What are the best digital payment platforms in the UK?
Here are some of the leading QR code payment apps currently available for UK businesses in 2023:
Atoa: Atoa users can securely pay using QR code scans and payment links. Offers instant payments with no hardware or contracts.
Fees: maximum 0.6% per transaction billed monthly, may fall lower with higher volumes. There are no hardware fees.
Square: Square POS allows users to create and share QR codes with customers.
Fees: 1.4% – 2.5% per transaction, with an additional 25p charged for card payments — hardware fees up to £599.
SumUp: Allows users to scan and pay with generated QR codes. Payout takes one day.
Fees: subscription plan at £29 per month with 50% off hardware and 0.99% per transaction. No contract plan at 1.69% per transaction and hardware costs (up to £139).
PayPal: Users can use their app to generate and scan QR codes for secure transactions. Offers instant payments with no hardware.
Fees: 1.5% + £0.10 per £10+ transactions, lower fees for smaller transactions. No hardware fees.
In conclusion, QR codes offer businesses an incredibly convenient and cost-effective method for accepting customer payments. Adding QR code payment solutions to their day-to-day operations means businesses can easily take home more of what they own by avoiding transaction fees. What's stopping you?
How can I generate a QR code payment for my business right now?
We're biased, but our app is there to kick things off. For starters, we offer the lowest rates with instant payouts. Plus, there are no set-up fees, hardware or contracts – making it ideal for new businesses and fired-up entrepreneurs who want to start taking funds without the faff. Whether in-person or remote, fees are lower with our QR codes.
You did the hard work, so you deserve the reward.
If you need more information, book a demo with our friendly team!