The retail industry is a place of non-stop change. One minute, consumers want to do everything online; the next minute, they're queuing around the street for the latest in-store exclusive drops. Payment options must reach far and wide, and collections, returns and exchanges must hit the spot. It's a battleground where businesses must keep up or risk becoming old news. The tell-tale ways of doing things just won't cut it anymore. Experience, availability and supplying a demand are key. But how do businesses manage this constant flux and adapt to the future of shopping in-store?
Good question. We're trying to unlock the secret to ultimate in-store experiences, which adapt to change and thrive in it. Are you in?
Reimagining future in-store experiences
Despite a huge rise in online and e-commerce sales in the UK, customers still crave the touch and feel of products in-store before buying. According to a survey completed in late 2020, the main reason UK consumers visit their local high street is convenience. This was followed closely by price and ability to try products, which a quarter of respondents named as a motivating reason.
This is where the industry looks towards personalised in-store experiences to keep brick-and-mortar stores relevant. Maybe a hyped H&M crossover collaboration runs a series of previews at some of its lesser-visited stores, or a high-street giant like Marks and Spencer motivates you with special in-store pricing. Consumers may tack physical retail visits onto more leisurely days in town and city centres to make the most of their trips, so it's all about ensuring the high street works in harmony.
Sustainable shopping takes first place
Have you ever ordered something small online, and it turns up in a box triple the size of the item? Yep, you got it. Frustrations like these are often a chief driver in making in-store purchases. Eco-conscious practices like visiting refill shops also shape mindful consumers' food and grocery visits.
Sustainability is more than a buzzword; it's a commitment to the future. Sustainable shopping means eco-friendly products, from sourcing right through to manufacturing. It's about packaging that is as environmentally responsible as attractive, using materials that are easy to recycle or reuse. The beauty is in stories of brands leading the charge, from clothing stores using organic and sustainable materials to grocery stores reducing food waste and single-use plastics. According to The Independent, Co-op is the UK's most considerate grocer for single-use plastics. 94% of their own-brand plastic is recyclable at home, with the remainder recyclable in-store.
Other notable 'green' brands include Patagonia, Lush and The Body Shop. Lush, in particular, is known for their immersive in-store experiences. It just smells so damn good!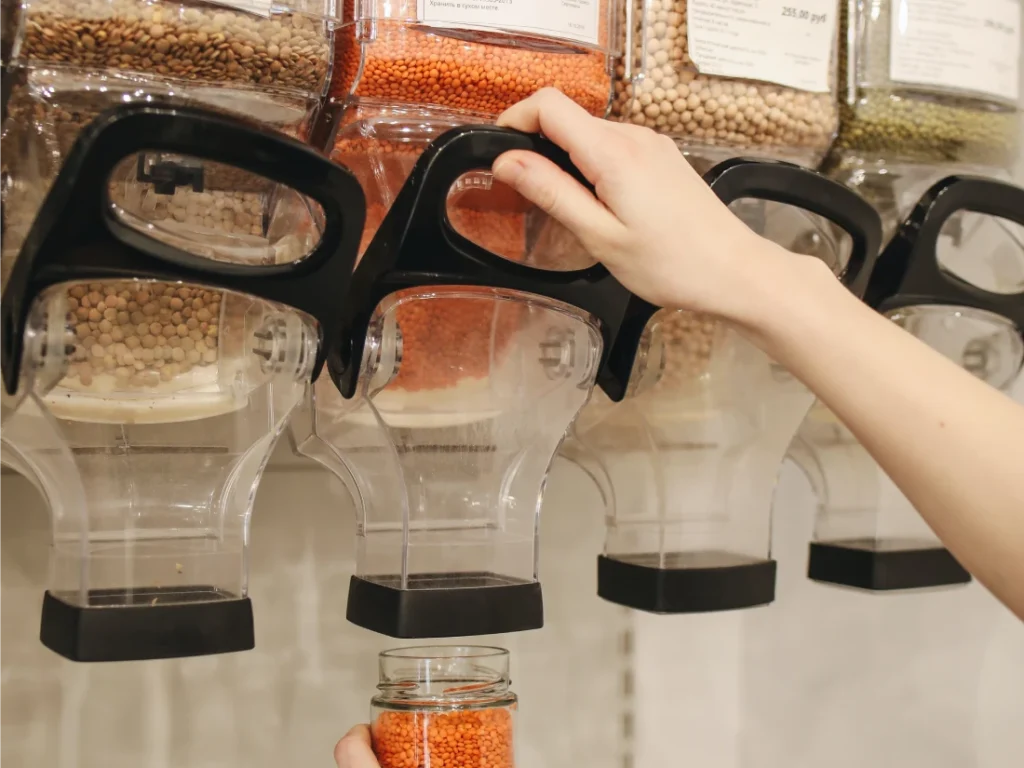 Make it omnichannel
UK retail is bridging online and in-store shopping to create a seamless experience considering all walks of life. Omnichannel experiences let you start shopping online and then pick up where you left off in-store, maybe with the convenience of 'click and collect' – a trend that joins e-commerce with brick-and-mortar stores. Try it in-store, buy online, click and collect, exchange in-store, return to lockers – it's all about flexibility!
There's a little something that can help pique your imagination, too…
AR helps make better in-store shopping choices
Your shopping experience enters a new dimension with Augmented Reality (AR) in-store shopping. Klarna's latest future of retail report found that Gen Z'ers believe AR will enhance their in-store shopping experience in the future, with 27% thinking it will be standard across retail stores.
Not sure what we're talking about? Here's a real-life example. When buying kitchens at Wren, you can slip AR glasses, and suddenly, the design comes to life. Want to see how that cupboard door opens and the integrated fridge looks? AR lets you visualise your chosen colour and style to understand better what works.
AR can be like a personal shopping assistant, too. You're looking for a pair of shoes, and AR guides you through the store, highlighting options that match your style, size, and price range. It can provide detailed product information or customer reviews and tell you if the item is in stock. It allows customers to interact with the products in a new way, making the in-store experience convenient, exciting and engaging.
Let's go checkout-free…
But wait, there's more magic here. How about stepping into a store, filling your basket, and walking out without paying at a checkout? Fine-tuned technology calculates what you picked off the shelves and automatically charges your card. That's the mind-blowing mechanics of checkout-free stores like Amazon Fresh. To us, that is the future of shopping in-store, right there.
What about the payment technology behind it? QR codes and payment links are your go-to tools here. Customers easily scan and pay, giving them a shopping experience without unexpected twists and turns. Let's learn more about how customers might settle up in the coming years…
Examples of future in-store payments
Mobile wallets mean your smartphone is all you need. Tap or scan to pay with your preferred mobile wallet app, like Apple Pay or Google Pay. For modern businesses, this may mean a rock-solid mPOS solution…
Chip and PIN are old news. Contactless, NFC, and QR code payment options are expected to multiply, letting you tap or scan for a quick and easy transaction.
Biometric payments let you forget PINs and passwords. Biometrics like fingerprint or facial recognition make your payments smoother and more secure. We're already offering this one…
Using these methods, customers can appreciate the freedom of scanning, pay without long lines, and the overall sense of empowerment. It's all about making payments easier, more efficient, and more secure so that shopping and retail experiences can be fun and enjoyable.