Let's face it: running a small business can be tough. You rely on payments to stay afloat, so the last thing you need is extra faff trying to take them. Whether you're buying stock, looking to pay staff on time, or just keeping the place warm – we understand that you need your funds as cheaply and quickly as possible.
Traditional (and dated) card readers may be a payment staple these days, but they come with extra baggage, such as contracts, hidden fees and long waits for cash. But fear not; there are cardless alternatives!
Open banking can transform your payments and increase profits.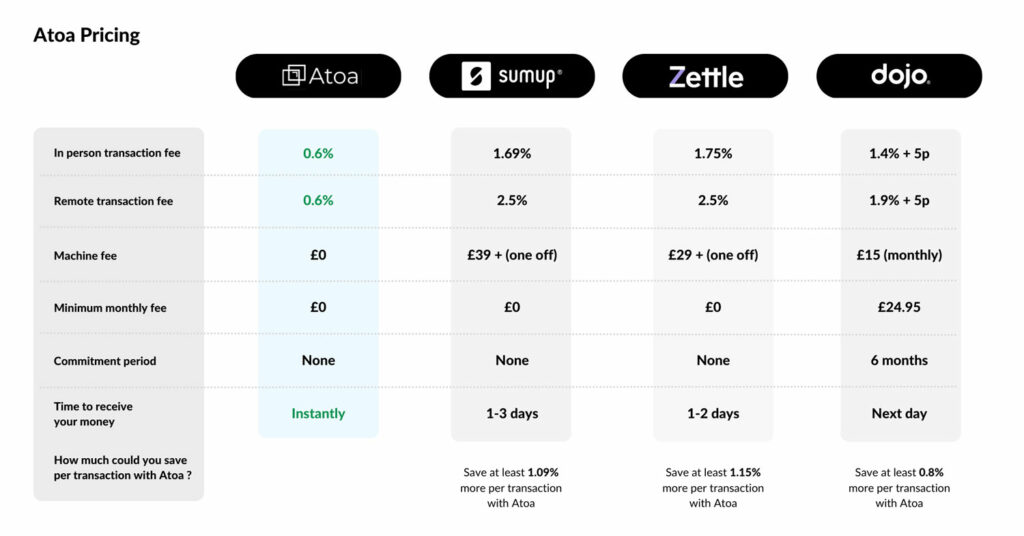 Open banking payment apps are cheaper than card machines. Fewer fees and no contracts.
Open banking payment apps are more convenient than card machines. Take payment without physical internet connections and from afar, thanks to QR codes and SMS options.
Open banking payment apps are more secure than card machines. Customer ID confirmed on the spot = no more chargeback fraud.
How does open banking work better than card machines?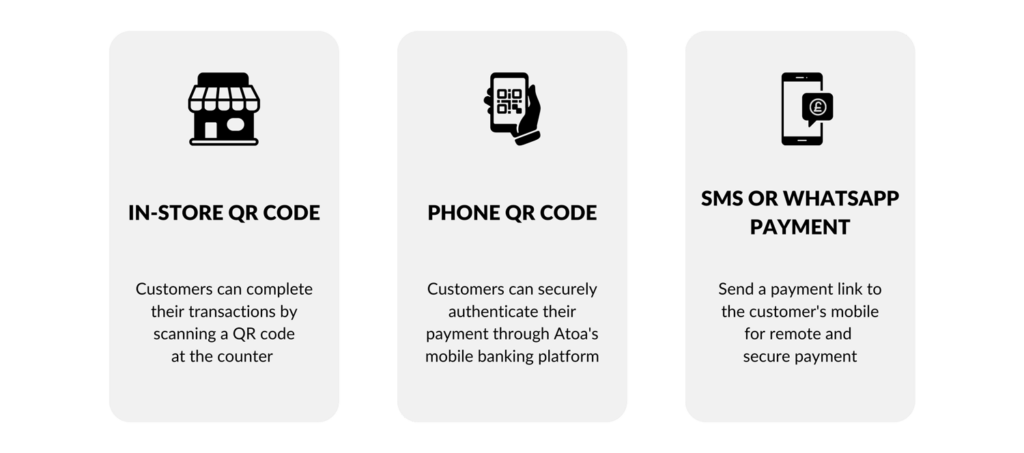 In-store QR Code
This nifty payment solution lets customers complete their transactions by scanning a QR code in-store. They don't need to rummage around for cards, and you enjoy lower transaction fees with instant payout. It's a win-win situation for everyone involved!
Phone QR Code
This one's easy! Your customer scans a QR code generated by the Atoa app, and then payment is securely authenticated through their mobile banking platform. Transaction complete! A handy go-to for tradespeople and hospitality staff who want to save their feet.
SMS or WhatsApp payment
This feature is a game-changer for appointment-based and call-out businesses like beauticians, electricians, and doctors. Send a payment link directly to the customer's mobile, enabling them to pay remotely and securely. It's ideal for taking deposits or replacing invoices that require long-winded bank transfers.
How do I get started with Atoa Business?
While it may take a little effort to convince customers to pay with QR codes or SMS initially, the payoff is worth it. The benefits of using our app are clear: minimal fees with a secure and instant payment process that can easily be tailored to your unique business needs.
Why not start your journey towards hassle-free payments today?
Download the app to your smartphone anytime you like and enjoy 14 days of free transactions as a thank-you for choosing us. After that, you're only charged a low transaction fee (a maximum rate of 0.6%) when you take payment. Nothing else. We don't just talk the talk – we walk the walk too!

Related content: