Local businesses are the backbone of our communities. As well as providing essential goods and services, they create jobs, boost the economy, and give a sense of identity and belonging. However, local businesses face many challenges, including competition from bigger chains, rising costs, and staying up to speed with changing retail trends and technologies.
This article will discuss local businesses' importance, challenges, and potential solutions. It will also open the door to strategies to bring the shine back into local hubs like these.
Why are local businesses important?
Independent businesses are important for many reasons. Beyond offering essential goods and services, they create jobs for residents, boost the economy and provide a meeting place. They also offer convenience and accessibility for less mobile residents who may not want to travel far.
When residents spend their money locally, it helps the area to grow, keep shops open, and provide a stronger local economy. It's refreshing to have independent options away from the big chains. It preserves local character and a stronger sense of community than rows of identical high streets.
By supporting local merchants, we help to make our communities stronger and more vibrant.
Challenges local businesses face and how to help
Independent businesses face stiff competition from chains, which have an advantage with bigger orders and lower prices.
Consumers can help local merchants by making an effort to shop locally.

Rising costs around stock, produce, rent, and labour make it harder for service industries to stay afloat.
Understand that prices may differ slightly between chains and independents.

Technological advances have made online shopping and delivery easier, often taking away precious footfall and passing trade.
Use local stores where possible. Commit to spending a certain amount in your community instead of using online services or big chains.
Understanding the local market
Let's say you're considering setting up a coffee shop in Leeds. It's worth noting the unique characteristics of your location. Understanding the local market is essential for success, as each community has individual wants and needs. For example, if Leeds has a colossal amount of local coffee shops, you might want to consider something else or ensure you have a unique selling point.
There are a number of questions to ask yourself before starting a business plan.
Demographics – What is the age of people in this area, and do they have a desire or disposable income for coffee? Maybe even pastries?
Economy – What are employment levels like in this community, and what is the cost of living there?
Competition – What similar businesses exist in the town and its surrounding areas? Are they big or small? Do they offer basic or artisan coffee?
Culture – Is it a tight-knit community where people help each other out? What do the community want or need there? Would the coffee shop benefit from social events?
Determining these pointers will help to identify your audience and craft local marketing techniques. Market research on buying habits also helps determine the area's wants and needs. In turn, you will be equipped to develop goods and services that resonate with your target group. Investing your time at this stage pays off in the long run! Read on for more small business growth tips…
The importance of online presence and local search
Suppose somebody is visiting Leeds for the first time. They'll likely find places to shop and eat on search engines, social media and Google Maps. To stand apart from the competition, boost your local business presence so potential customers can find you. This means it's time to think about effective local SEO…
A well-optimised website is a great place to start and will help your business rank higher in search results for relevant keywords. You want to optimise your website for local search so that you appear at the top when people type "coffee shop Leeds" in Google. Follow the checklist below to get in the best standing:
Make your business name, address, phone number and opening times easy to find on your website.
Show off a little! Add relevant keywords across your site, like "coffee shop Leeds" and "best coffee in Leeds."
Ensure you have a keyword-rich meta description highlighting what your shop offers.
Get listed! Ensure your shop appears on listing and review platforms like Yelp and Google My Business.
Build backlinks where you can. Ask review sites to hyperlink your website.
Set up a Google Business Profile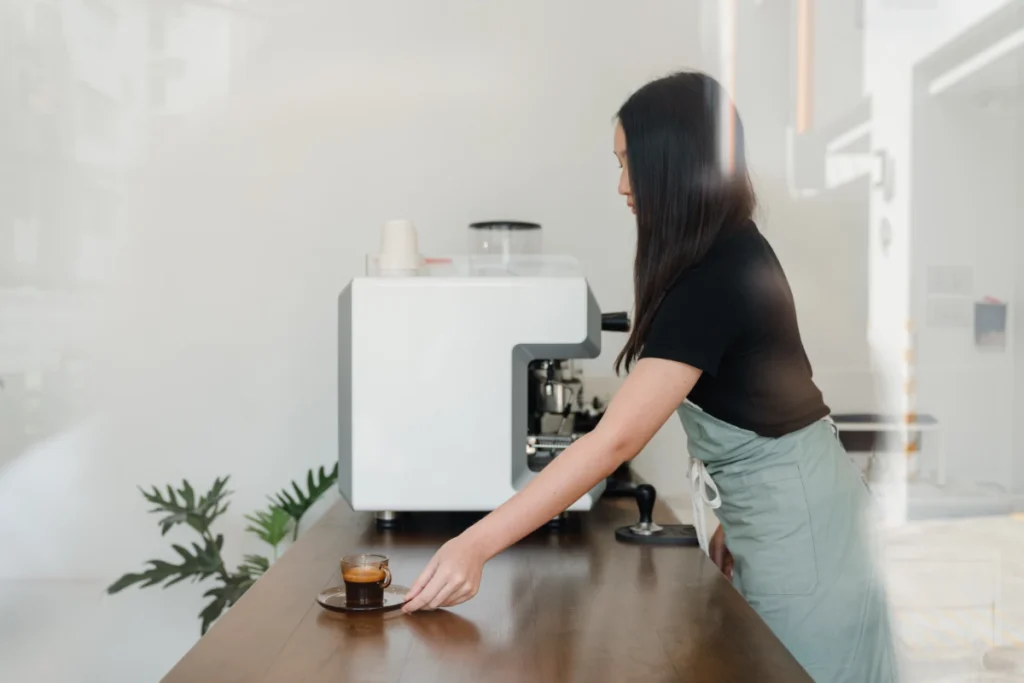 Google Business Profile is a powerful free tool that helps businesses manage their presence on Google Maps and searches. The result? They help businesses attract more customers and ultimately improve their bottom line.
Without further ado, it's time to claim and optimise a Google Business Profile for your coffee shop. Start by adding your correct business name, address, phone number, website, accurate opening times, and other relevant information. Include photos and videos of your shop and menu items to help attract customers.
Once you've got the page rolling, encourage reviews from your community and respond to any left by them. This builds trust in your services and attracts business. Most importantly, promote and share your profile too. Make the coffee look so good they can almost taste it!
Wake up and smell the social media content!
Social media content is a powerful tool businesses can use to connect with potential customers, build brand awareness, and drive traffic to their locations.
It's an ever-changing landscape that takes time, patience and effort. Here are a few quick tips for your channels:
Be relevant: Choose the right social media channels for your customer base and create content related to your industry.
Show your successes: It can be valuable for your audience to scroll through your Instagram page to see how your business has changed and what you offer.
Use it as a communication tool: Social media has become one of the biggest ways to find news, events, products and services. Make sure you share any business changes, new products, events or changes in opening times here and other bespoke content.
Offer tips and advice: Do you want your audience to get fully immersed in the world of coffee? Record a video showing them how to make a latte or offer a glimpse of how your store and staff work. This can humanise your business and drum up more interest in it.
Reviews and reputation management
Online reviews are a force to be reckoned with! They can impact a business's reputation. Community engagement is key for local businesses. Positive reviews can pave the way to new customers and boost your sales. In contrast, negative reviews can drive away customers, damaging your store's reputation.
You should ask your customers to leave reviews, but always respond to them promptly and professionally. Positive or negative, acknowledge the customer's concerns to show you appreciate their feedback. If there's an issue, take it seriously, apologise and resolve it. Explain what happened, but avoid excuses or blame. Offer the customer a solution. This could be a refund, a free product, or a discount.
The takeaway
Let's wrap this up! Local businesses can use many different strategies to market their businesses. The best business strategies will depend on various factors, such as the type of business, the target audience, and the budget.
Make sure you've got these key areas on your list for now:
Understand your local market
Optimise your website for local search
Optimise your Google Business Profile listing
Use the best payment system for your local business
Create valuable content
Use social media to communicate and promote your store
Manage and respond to online reviews
Measure your success
How we can help
If you want to explore a payment system for your local business, we take a few headaches away! Atoa can boost your bottom line without content and reviews by giving you faster, fairer and more secure payments. It's up to 70% cheaper than using a card machine with no hardware, contracts, or funny business.
Why not give Atoa a try?