WhatsApp is the world's most popular mobile messenger app, with approximately two billion monthly active users in January 2023. But WhatsApp is more than just a messaging app; it's an innovative platform that may hold the key to business success.
In this post, we zoom in on the opportunities the messaging platform brings to hospitality operators, car dealerships, salons, and more. Do you want to use WhatsApp in your business? If so, learn how to add it to your daily flow to help take your business to new heights with this handy guide.
WhatsApp vs. WhatsApp Business – what's the difference?
WhatsApp's Business service can open new avenues to engage with customers, streamline operations and amplify your marketing. Are you a restaurant trying to rev up your reservations or a retailer seeking to connect with customers? If so, it's worth seeing whether it can help simplify your to-do list. Check out the key differences between each platform below.
| Feature | WhatsApp | WhatsApp Business |
| --- | --- | --- |
| Purpose | Personal communication | Business communication |
| Features | Basic messaging, broadcasts | Verified profiles, catalogues, quick replies, call-to-action ads, entry point ads, statistics |
| Target audience | Individuals | Businesses of all sizes |
| Pricing | Free | Free for small businesses, fee for large businesses using the platform's API |
Making sense of the extra features
Business profile: Create a business profile complete with your address and website details, giving your business that extra shine. Make sure your customers recognise you by adding a clear logo or store photo!
Catalogue: Create a catalogue to showcase your products and services. You can share links to your catalogue with customers in your chats.
Labels: Organise your chats into different categories with labels for easy searching, like 'new customer' or 'orders in progress.'
Quick replies: Create quick replies to save time when responding to common questions or sending set information. Tapping '/' brings up a menu of your common replies.
Automated messages: Set up automated messages to welcome new customers, remind customers about appointments, and send other updates.
Out of office!: Press 'activate away messages' to let customers know you're out of action for a while.
Sync with Facebook Shops: Integrating an existing Facebook Shop means customers can start a direct chat with you.
Signpost customers to your online store: Up your e-commerce game by sending customers directly to your online store with interactive messages or buttons.
WhatsApp Business API: If you have a large business, you can use the WhatsApp Business API to integrate WhatsApp with your CRM system and other business tools.
How WhatsApp Business can help you
Connect with customers where they are. With over 2 billion active users, you can reach your customers on a platform they already use. Send them menus, reservation reminders, stock levels and discount codes.
Provide customer support. WhatsApp Business is a great way to provide customer support. You could use it to answer questions, resolve issues, reschedule appointments, and provide updates.
Link social media channels: Promoting your wares on Insta? Connect your WhatsApp Business and Instagram to get WhatsApp messages and ads from your profile.
Leverage sales. Send exclusive deals, share product updates, reserve stock, remind customers about abandoned carts, and even collect deposits with payment links.
Build relationships. Create a community through one-on-one conversations with customers. You could create groups and send automated messages relevant to their interests or past purchases.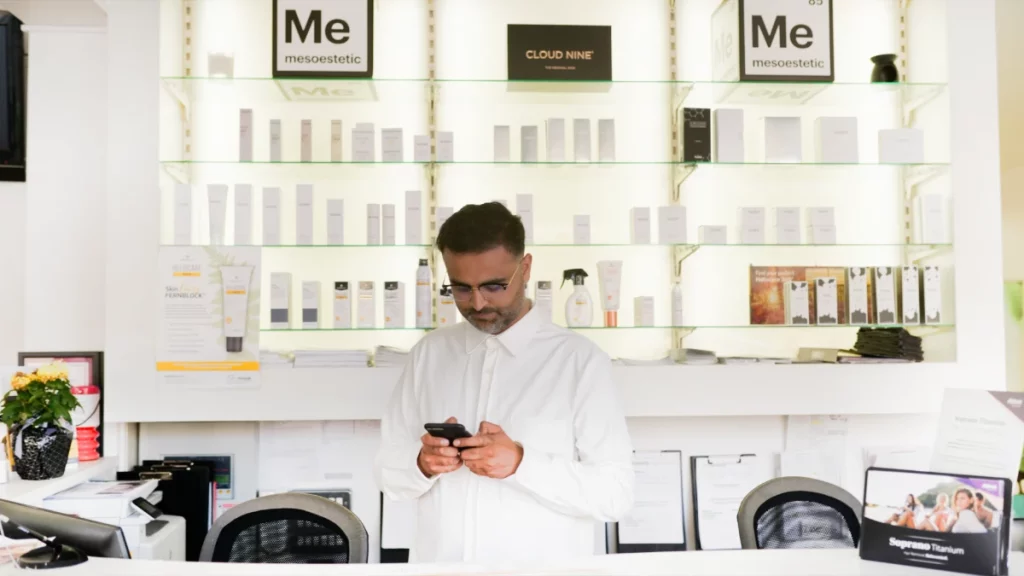 Above: One of our merchants, The Beauty Wardrobe, uses Quick Replies to send out terms and conditions with a payment link to collect deposits. Find out more in our salon case study.
Setting up a WhatsApp Business profile 
It's pretty straightforward to get started on WhatsApp Business. Follow these seven simple steps to kick things off!
Download the free app from the Google Play Store or Apple App Store.
Review and accept the Terms of Service.
Register your business phone number and enter the verification code you receive.
Allow access to your contacts and photos to start messaging customers.
Create an account by filling out your business name, category, and profile picture.
Build your business profile by adding your address, description, hours, and more!
Start chatting with customers by tapping the "+" button and searching for or selecting a contact.
💡 Make the most of all the app's time-saving features, like quick replies, automatic messages, and labels.
WhatsApp for Business best practice checklist
Use a business number. Don't use your personal mobile number. Create a business account to keep your personal and professional messages separate and organised.
Set up your business profile. Make sure your business profile has all of the relevant information! This makes it easier for your customers to learn more about what you offer and how to contact you.
Be responsive. Try to respond to customer messages as quickly as possible. This will show customers that you appreciate their custom and are willing to help them.
Maximise its tools. WhatsApp Business offers several tools to help you manage your conversations and customers. Use these tools to your advantage.
Be respectful. Remember that you're communicating with real people. Be respectful of their time and privacy.
WhatsApp Business is a powerful tool that you can use to connect with customers, provide support, drive sales, and build relationships. Using the features and tips above, you can make the most of this flexible platform to help grow your business.
Frequently asked questions
What is WhatsApp Business?
It is a free-to-download app for businesses of all sizes. It offers a number of features that make it easier for businesses to communicate directly with customers.
How is WhatsApp Business different?
WhatsApp Business offers a number of features that are not available in the regular WhatsApp app, including a business profile, quick replies, labels and insights.
Is WhatsApp Business free to use?
The WhatsApp Business app is free to download and use. Some paid features, like the WhatsApp Business API, allow larger businesses to integrate the app into their CRM systems and other business software.
Can I use it on multiple devices?
You can only use WhatsApp Business on one device at a time. However, you can link it to the web platform, which allows you to access your WhatsApp Business messages on your desktop.
Are you still looking for your perfect payment match? Atoa can help! We can bring instant payments to your business, made directly in your customer's UK bank app. That means steep fees are sidestepped, too. If you want to know more, book a live product demo with Conor and give your business the gift of fast, fair, secure payments.