When did you last input your debit or credit card PIN into a reader? It's undeniable: contactless shopping is the new norm. From NFC and radio frequency identification (RFID) transactions to QR code scans, we're witnessing a payments shake-up across e-commerce, hospitality and beyond. But they don't just help cash flow; touch-free payment solutions can be a powerful overhaul across all business operations. We'll discuss the advantages of contactless shopping across the board, with a few success stories thrown in for good measure.
Why a contactless shopping shift matters
Is there anything more convenient than digital payments? Shop or eat and drink, tap, pay, leave. Daily tasks are done with less time and effort with a quick tap or scan than traditional payment methods. This is great for customer expectations and experience, and staff also get more time to think with increased efficiency. But why does it matter for businesses?
The benefits of contactless shopping
Boosting your business's bottom line is why it matters. Not to mention your customer's experience, which helps provide a positive reputation for your goods or services. It's simple: consumers would rather visit or trust a business rated 4.5 to 5 stars than 1 or 0. Long wait times and staff shortages aren't winning ingredients, but could a shift towards contactless shopping save this pie? Let's see what a business needs to succeed…
Efficient expectations: Digital payments offer faster transactions, shorter queues, and happier customers. Customers now expect this experience when they shop or dine, and going contactless offers a hassle-free alternative to traditional methods. QR code menus work like a dream here…
Easy integration: Adding QR code systems to businesses is cost-effective and user-friendly. Hardware is minimal, and card fees are reduced for payments, making it a practical solution for all operations.
Repeat custom: QR codes open the door to more rewarding experiences and return visits. They offer a deeper connection with your customer base, from tailored promotions to loyalty programs.
Precious data: Access valuable data on how customers use these codes to refine your marketing and help meet demand.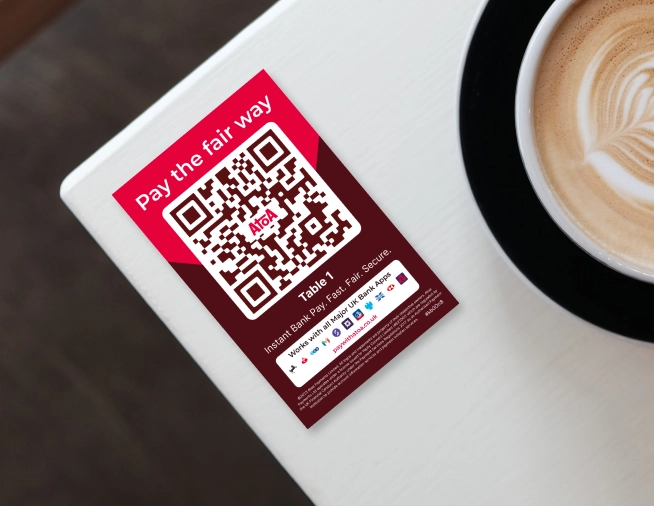 How QR codes boost business
The evolution from traditional payments to QR codes has been an interesting journey! Over the past few years, the use of QR codes for payments has experienced global growth. This is largely due to their convenience and the widespread adoption of smartphones. The coronavirus also nudged awareness and adoption as businesses explored touch-free payments and safer services. Apps like Apple Pay, Google Pay, and various banking apps work harmoniously with QR codes, making them more accessible.
Behind closed doors, QR code transactions are more cost-effective for businesses than card processing. QR code setup is simple, can be more affordable to maintain, and offers better rates. QR code menus or kiosks streamline ordering and payment, reducing physical menu waste. It also reduces the number of staff required for order-taking and payment processing. Your team will be happy to know that QR code systems can handle mundane tasks for staff, too.
Aside from payments, QR codes can be used far and wide to share information, from marketing to loyalty programs. Consumers can enjoy the finer side of shopping or dining, which means transitioning from traditional payments to QR codes will likely persist and evolve. It's not just a change in payment methods; it's a shift in how we spend our time.
Are you wondering how established UK chains are harnessing these powers? Read on for some tried and tested success stories…
Contactless shopping payment success stories
Here are some success stories from UK businesses who successfully added innovative digital payments to their ordering and payment processes.
Grab a coffee using QR codes at Pret
London-born chain Pret a Manger has been fueling city workers and shoppers with fresh lunches and coffee since 1986. More recently, they launched a drinks subscription, 'YourPretBarista', stored as a QR code in digital and mobile wallets. Subscription holders scan the QR code on in-store readers to redeem their pre-paid drinks. The result? Quicker transactions and less waiting around for that hot cup of joe.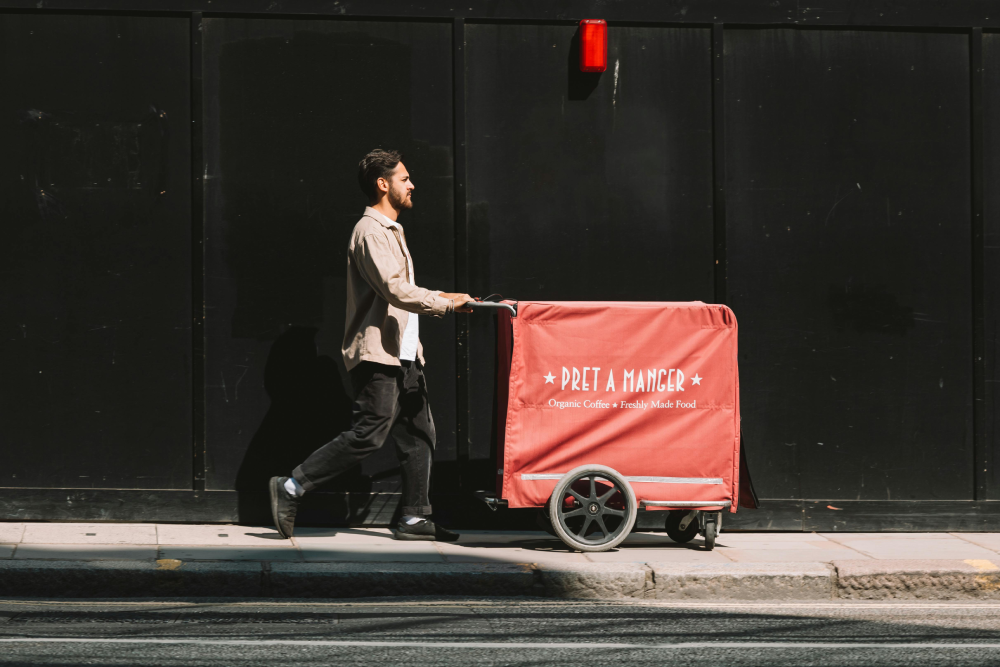 Amazon Fresh is checkout-free
From an online bookstore to a tech superpower, there's not much Amazon isn't trying out. Amazon Fresh allows cashless transactions using QR codes or NFC payments. Customers access stores by scanning a QR code in the app or tapping a payment card at the entry gate. They shop for groceries and then scan the same entry method they used to exit the store. A green tick shows at the gate, and they leave; no checkouts are required! A spookily accurate receipt is emailed shortly after each visit…
Serve yourself at McDonald's
An early adopter of self-service kiosks, McDonald's rolled them out to the UK market around 2015. Touch screens allow users to browse the menu, remove ingredients, select meal options, and choose portion sizes. After a few cheeky upsells, customers checkout using contactless or mobile payments. Order is confirmed with a collection number; lo and behold, there's your double sausage McMuffin without egg. This has reduced wait times for the busy chain and works magic at high-traffic locations.
These examples show how UK businesses have harnessed contactless shopping to improve customer experiences, boost sales and promote loyalty. How will you make checkout easier in your store? Well, we happen to have a few tips for that…
A contactless payment success checklist
What are your business needs? This is your first step in figuring out how QR codes and contactless methods can streamline operations. This could include menus, payments, loyalty programs, and more. Here are a few other ways you can consider different ways to pay.
Choose the right QR code system: Find a provider that matches your business needs. Consider factors like ease of use, fees, integration and additional features (like payment links…)
Optimise your POS: Can your POS system integrate with QR code technology? This might involve updating your current system or choosing one that supports contactless payments.
Explore contactless options: Research payment providers like Apple Pay, Google Pay, and QR code alternatives like Atoa.
Try QR code menus: Create digital menus accessible via QR codes for greener menus and easier ways for customers to explore your offerings.
Educate staff and customers: Train your staff on using and promoting new payment methods. They should be well-versed in assisting customers unfamiliar with these technologies. Develop user-friendly guides or pitch how customers can use QR codes.
User experience: Test the customer journey before going live, from scanning QR codes to completing payments. Iron out any bumps!
Promote security: Highlight the safety and convenience of using QR codes, like biometric scanning and fraud detection.
Reward customers: Pair your loyalty program with the QR code system if applicable. This encourages repeat business and improves customer experience.
Follow UK payment regulations: Stay on top of changes or standards related to contactless payments and QR codes. Ensure your business complies with data security, too.
The takeaway
We hope this article has been a useful introduction to contactless shopping or affirmed any decisions you had. These low-cost changes will pay for themselves in your operation by boosting your orders, sales, processes and overall customer experiences. Creating a seamless and enjoyable visit for customers and staff is the key here. Use these technologies as business-boosting tools, not just for ticking off new trends.
We have the key if you're looking for a QR code provider. Atoa provides fast, fair, secure payments without hardware or contracts. We've got a few POS integrations in the bag, too! Head over to the website to find out more about our services.