Dropshipping is a retail fulfilment method, but it's also become a popular online business model. You could even say dropshipping is the 'secret sauce' of modern e-commerce. When a store sells goods this way, it doesn't keep any products in stock or handle them directly. The seller operates an online store, but when a customer orders, the seller sends a request to the dropshipper, who ships the goods directly to the customer. The seller then updates the customer on the order status but doesn't come into contact with the goods, making for an interesting an flexible approach to online retail.
How does dropshipping work?
The biggest difference between dropshipping and the standard retail model is that the merchant doesn't stock or own inventory—they act as the middleman. Maybe they curate hard-to-get homeware goods or work on importing grocery items into the UK. Dropshippers don't hold the products they sell to you in a physical warehouse. Instead, they purchase items from a wholesale supplier or manufacturer. From there, shipping is arranged directly to the customer.
The process is as follows:
You own an online store that sells football shirts.
A customer places an order for a shirt on your website.
You then purchase the shirt from a third-party supplier, such as a wholesaler.
The supplier ships the shirt directly to your customer.
You never have to handle or store the football shirt yourself.
Benefits of dropshipping
It's an instant e-commerce business that doesn't require much setup effort or cost. This method doesn't work for brick-and-mortar stores, so there's no need to invest in rent or staff. You can quickly set up a dropshipping business for free with an existing laptop and internet connection.
Avoid debt. Similarly, the financial risk is low as you don't own or stock any inventory. The wholesalers or suppliers you use are also responsible for the shipping costs. You can test different goods to see what resonates with your audience without losing money or over-buying stock.
Scale up or down. This business model offers flexibility, as you're not dealing with stock or staff commitments. Your supplier also manages the inventory, saving valuable time spent on admin and management.

Switch up your offering. This flexibility also means you can chop and change between products and offer a broad range of items, especially during seasonal rushes!
Drawbacks of dropshipping
Competition. The benefits above mean that many people are having a go at this e-commerce business! Unless you cut exclusivity deals with your suppliers, there's every chance your competition will have access to the same products as you.
Tight margins. Profit isn't always going to be easy. Not only is there competition, but you're outsourcing to a third party, which means revenue can dip. You need to focus on doing high volumes to see a similar income to brick-and-mortar stores.
Relying on suppliers. If your supplier is good, you're in the clear, but bumps in the road can lead to problems as the supplier is key in this business structure.
Customer service. Dropshipping revolves around communication. You get the order and then lean on your supplier for confirmation, updates and shipping. This must also be relayed to your customer so they're up-to-date with the order. If there are any holes in communication between you and the seller or you and the customer, you may encounter difficulties.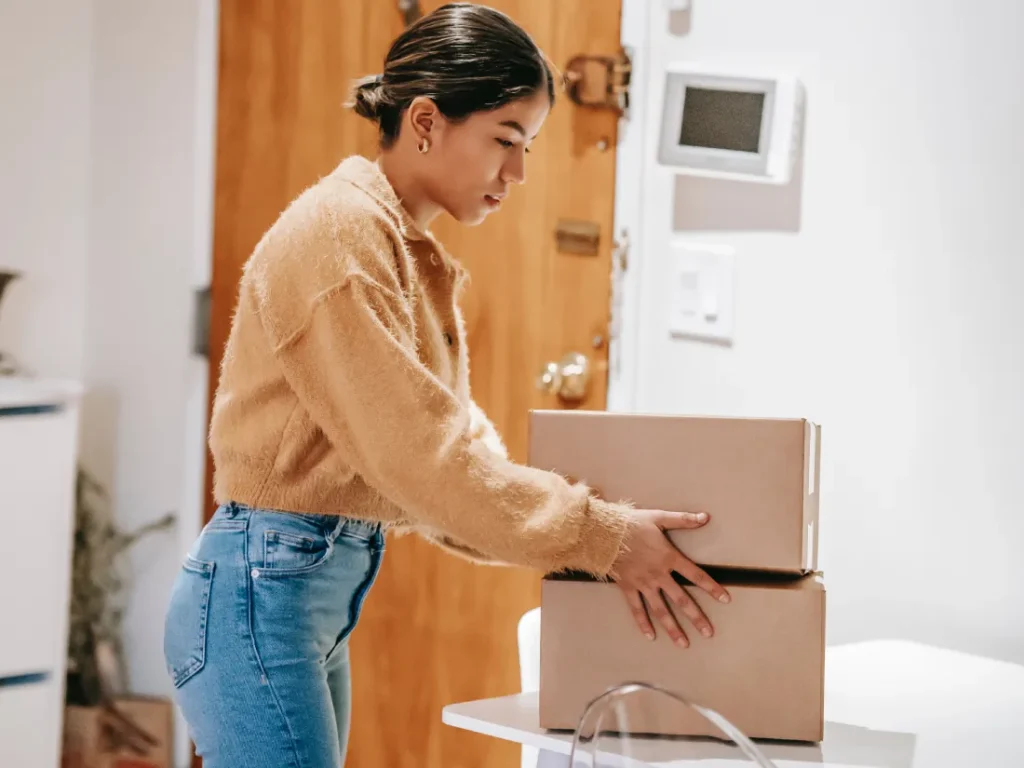 How to start and run a dropshipping business
The pros and cons can't always be the way to determine how a business idea should pan out. This business model focuses more on the promotional side of retail and is ideal for somebody who can craft and maintain an audience, providing them with an easy route to desirable products.
Let's break it down with a handy checklist highlighting how to approach and run a successful dropshipping store…
Have a unique selling point and offer goods you are passionate and knowledgeable about.
Register your business with HMRC to comply with income tax rules.
Consider import duties and extra costs.
Forge a strong brand identity and create a UX-optimised website with various device layouts in mind.
Take stylised product photos and concentrate on fun and detailed SEO-optimised product copy.
Use effective marketing strategies to promote your store and stand out.
Provide excellent customer service and communication.
Research the best apps and platforms to help you, such as Squarespace, Adobe Commerce, and Shopify.
Common questions about dropshipping
What is the difference between dropshipping and traditional retail?
Dropshipping sellers don't stock inventory, focusing solely on marketing and customer service. Traditional retail sellers purchase inventory in bulk and are responsible for a lot more, including warehousing, shipping and often physical stores.
What kind of products can I dropship?
Whatever you like can be easily obtained from suppliers – from weird and wonderful kitchen accessories to run-of-the-mill clothing items. Ensure you're knowledgeable and there's a demand for your chosen products.
How do I start getting customers?
By all means necessary! Tell your friends and family to spread the word and use social media and paid advertising to your advantage. Make sure your website is SEO-optimised and looks good across all devices. Keep comms and customer service consistent, and ask happy customers for reviews to extend your reach!
What are the legal requirements?
You must register your business with HMRC and pay VAT if your dropshipping business exceeds the annual Valued Added Tax threshold (currently £85,000). It's also essential to follow consumer protection and GDPR regulations.
Three tips for modern e-commerce success?
Carve a niche: choose unique products you're passionate about and ensure your supplier has top-notch goods.
Rock-solid supplier relations: you need them to keep the good ship afloat! Have a secondary supplier list to avoid delays.
Experience is everything: make it good to keep your customers coming back for more…
The takeaway
Dropshipping can be a great side hustle with low upfront costs when managed correctly. However, it is important to remember that it is still a business, and it takes hard work and dedication to be successful. Essentially, you get back what you put in!
Looking for a way to accept payments on your e-commerce website? Look no further than Atoa. We offer instant payments with low fees, offering 14 days of completely free transactions when you first download and sign up for our app. Don't let step fees get in the way of your profit margin…