Retail is everywhere! From the bustling grocery store to your favourite online boutique, retailers are responsible for bringing us the goods and services we need and want. But retail is more than just buying and selling. It's about creating experiences that make us feel good.
Think about the last time you went shopping. Did you buy what you needed and make a move? Or did you take time to browse the aisles, chat with the staff, and maybe even try on a few things? If it's the latter, then you're not alone. Consumers today are looking for experiences.
So the burning question is, how does retail work in our ever-evolving society?
What is retail?
Retail is more than just a store with products on shelves. It's about connecting with people, fulfilling their needs, and creating memorable shopping experiences. Retail bridges manufacturers and consumers, making both essential and luxury goods and services available to the public.
But without getting too poetic, retail is the sale of goods and services to consumers. Retailers purchase large quantities from manufacturers or wholesalers and then sell them in smaller quantities to consumers for a profit.
Retail is a huge industry, with retailers of all shapes and sizes. There are brick-and-mortar stores, e-commerce stores, e-tailers, and even multichannel retailers who sell through both physical and online channels.
Retailers need various employees to keep us all stocked up, from sales associates and cashiers to stockers and managers.
The different types of retailers
Brick-and-mortar stores are the traditional physical stores we're all familiar with. Brick-and-mortar stores offer a variety of advantages, such as the ability to see and touch products before buying them and the opportunity to get help from sales associates. However, they can be more expensive to operate than e-commerce stores and may have a smaller selection of products.
E-commerce stores are online retailers selling goods and services online. Online stores offer many advantages, such as convenience, a wider selection of products, and lower prices. However, customers may need help to see or touch products before buying them, and they may have to pay for shipping and returns.
E-tailers are websites or apps that sell almost everything you can imagine, from clothes and electronics to home goods and groceries. They don't usually have a physical store and ship from warehouses or third-party sellers. Examples include Amazon UK, ASOS, eBay UK and Etsy.
Multichannel retailers sell through both physical and online channels. This gives them the best of both worlds, allowing them to offer customers the convenience of online shopping with the benefits of physical store experience.
Different types of retail stores
There are many different retail stores, each with a unique focus. Here are a few examples:
Supermarkets are chain stores that offer various products, including fresh produce, meat, dairy, and packaged goods. According to Statista, the United Kingdom's leading retailers are supermarket chains, with Tesco coming out on top with annual sales of approximately £53.2 billion during 2021/2022.
Department stores stock various merchandise, including clothing, shoes, home goods, and electronics. They are typically large stores divided into different departments, each specialising in a different type of merchandise. This industry is estimated to be worth approximately £32 billion British pounds. The UK's leading department stores are John Lewis, Marks and Spencer, and Harrods.
Speciality stores sell specialised products such as bikes, books or fishing tackle. They are typically smaller stores that offer a deeper focus on products in their chosen field.
Convenience stores offer a limited selection of goods, such as groceries, snacks, and beverages. They are typically small stores located in convenient locations, such as petrol stations or city centres.
Different types of jobs
The different types of retail jobs vary to reflect what the different segment or store type needs to operate. Here are a few common examples of the positions on offer and what they generally do.
Sales associates are based on the shop floor. They help customers find the products they need and answer their questions. They may also help cashiers with purchases and accepting payments.
Cashiers ring up customers' purchases and accept payment at the till or checkout.
Stock assistants keep the shelves stocked with merchandise and may also unload deliveries and maintain the stock room.
Managers oversee all aspects of a retail store, from hiring and training staff to managing stock and sales. They may also be responsible for developing marketing and retail strategies.
Buyers select the products that a retail store will sell. They research market trends and negotiate prices with suppliers.
How does the retail supply chain work?
Step 1: Production and manufacturing
Producers and manufacturers craft, assemble or harvest the goodies that will soon be on the shelves in your favourite stores.
Step 2: Supply and distribute
Enter the suppliers and distributors who ensure products are ready to hit the road. They coordinate the movement of goods from the factory floor to your local store.
Step 3: Warehousing and storage
Products need a place to chill before they enter the spotlight. Warehouses and distribution centres store everything from electronics to items, keeping them safe and sound.
Step 4: Enter the buying team!
This is where retail buyers curate the best products for you. Retailers decide which items cut it, aligning with their brand and what their shoppers want.
Step 5: Visual merchandising
Ever notice how some products seem to glow on the shelves? That's the work of visual merchandisers who arrange products in shop windows and in-store to catch your eye.
Step 6: Shopping!
When you stroll into a store, it's all about the experience. Retailers create the vibe, the music, and the ambience that makes shopping enjoyable.
Step 7: To the checkout…
The checkout is where your selections turn into purchases (and payment options like Atoa make the transaction smooth and secure…)
Step 8: Enjoy your purchase!
Whether it's a flowy dress, the freshest trainers you could find, or even something weird (yet functional) like a new potato peeler 'cause your old one broke, it's time to indulge in whatever your haul contains!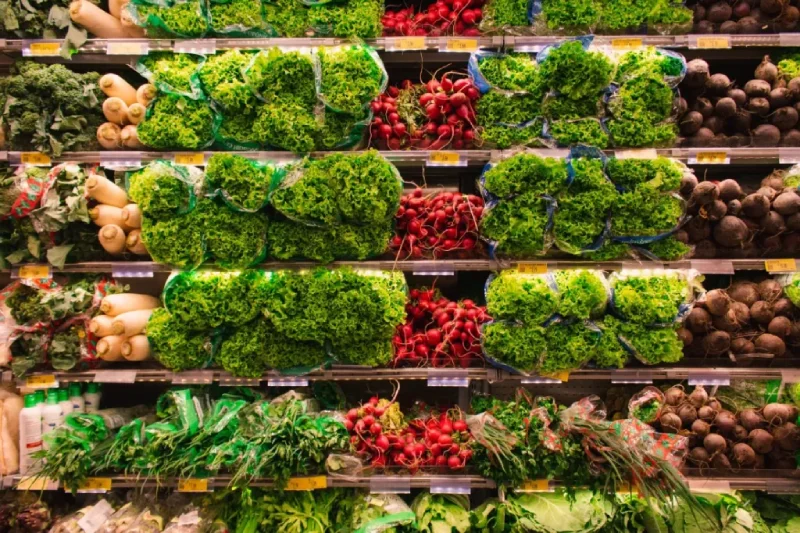 Retail trends to watch
The retail industry is constantly evolving, and new trends are always emerging. Here are a few of the latest retail trends:
The rise of e-commerce: E-commerce is growing rapidly as more and more consumers shop online. Statista ranks e-commerce revenue in the UK at £133 billion, taking a 38% share of overall retail. Fashion is currently the leading e-commerce segment.
The growth of omnichannel retailing: Omnichannel retailing is a seamless shopping experience that allows customers to shop across multiple channels, such as online, in-store, and on mobile devices. Omnichannel retailers are investing in technologies and strategies that provide a consistent experience for customers across all channels.
Customer experience is more important than ever before. Retailers focus on creating a positive customer experience at every touchpoint, from when customers enter their website or store to when they receive their orders. This includes providing helpful customer service, making it easy for customers to find the products they want, and offering convenient return and exchange options.
Sustainability is key, and many retailers now focus on such initiatives as reducing their environmental impact and using sustainable materials in their products. Consumers increasingly demand sustainable products and services, and retailers need to respond.
Here are some additional retail innovations shaping the industry
Social commerce uses social media platforms to buy and sell products and services. Social commerce is growing rapidly as more and more consumers buy products promoted by influencers on platforms like Instagram, TikTok, and Pinterest.
Personalisation. Retailers are using data and technology to personalise the shopping experience for each customer. This includes recommending products tailored to past purchase history, offering personalised discounts, and creating targeted marketing campaigns.
Customer-centric retail, honey. Retail sales techniques are being boosted by experiential shopping experiences that go beyond simply selling products. This includes offering in-store events and product demos to create unique and memorable shopping experiences.
These are just a few of the latest retail trends. Retailers who can keep up with these trends and adapt their businesses accordingly will be the most successful in the years to come. Want to know more? Check out our article on the future of shopping in-store.
The takeaway
The retail industry is vast and diverse, and it is constantly evolving. Retailers of all shapes and sizes are facing new challenges and opportunities. However, the one thing that remains constant is the importance of the customer. Retailers who focus on meeting the needs of their customers are the most likely to be left standing in years to come!