When did you last make a payment using a physical card? Businesses must embrace technology to adapt and survive, and mobile payment apps have become a hot topic in this field. Offering a more efficient way to handle transactions, mobile payment apps are no longer just a luxury but a necessity. Whether you're running a bar in London or a car dealership in Manchester, adding mobile payments to your flow can be the game-changer your business needs. But with many options, choosing the right app takes research and effort. We're here to run you through the key factors and considerations to help you make the best choice.
Understanding mobile payment apps
Mobile payment apps allow businesses to accept payments on portable devices with little or no extra hardware. Each payment app comes with different benefits, whether it's improved experience, reduced costs, or even increased sales. These apps are handy for customers, too. They can use them to pay for goods and services in stores and online, as well as send and receive money from friends and family.
Factors to consider when choosing an app
Finding the right mobile payment app for your UK business is like setting your foundations for success. You may need QR code payments for your coffee shop or biometric-protected options for high-value transactions. When selecting the right mobile payment app for your UK business, you must take your business needs into account. Security and compliance are non-negotiable, but the rest are sure to bring a helping hand. 
Knowing your goals will help to guide your decision. Here are the key factors you need to weigh up:
Sound security measures
The safety of your transactions is the most important issue here. Ensure your chosen mobile payment app adheres to UK payment regulations, is serious about security standards, and follows compliance. This will safeguard your customer trust and your business's reputation.
Simple integration with your business
Mobile payment apps need to integrate into your existing systems and workflows. Whether you're a retail store, a service provider, or an e-commerce store, the app should simplify your operations, not complicate them.
User-friendly transactions
Simplicity matters, so opt for an app your customers can enjoy. A bright and user-friendly interface enhances the customer experience and encourages repeat business.
Fair fees
Understand the fees that come with different mobile payment providers. Fair and transparent pricing is essential. Check the small print for additional compliance or hardware fees and, most importantly, scary gotcha contracts!
Support when you need it
Technical meltdowns aren't what your business or customers want during peak times! Reliable customer support is your lifeline; check your provider's reviews first and choose one ready to assist you when needed.
Find a perfect blend of security, easy integration, usability, fair pricing, and dependable customer support. These factors form the bedrock of efficient payment solutions, so don't settle for anything sub-par!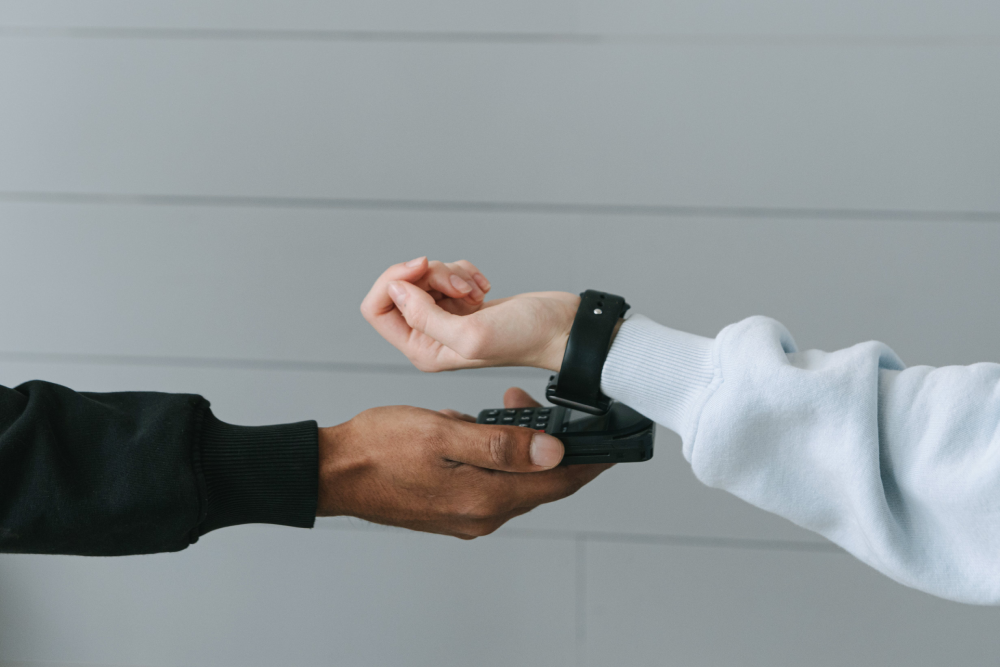 Other handy research tips
When seeking advice on choosing a payment app, consider the following sources:
Assess your industry: Consider the industry you operate in, as different businesses have unique requirements. For example, a restaurant will need different payment methods than an e-commerce store.
Think about growth: Will the app accommodate your business as it expands? Does it offer the option to add employees or multiple locations?
Consider your customers: What's the most common way they pay? Do they prefer SMS payments, mobile wallets, QR code menus or other methods?
Ask around: Reach out to other business owners or consultants in your industry or post on forums to find insights and recommendations based on similar experiences.
Go to the source: Contact payment service providers directly to ask about their services. They'll likely offer you a product demo or free trial.
Best mobile payment apps in the UK
But which platforms are likely to make the mark? The UK market isn't short of solid mobile payment app options. Here, we've curated a table of some top players, highlighting their costs and key benefits.
| | | | | | | | |
| --- | --- | --- | --- | --- | --- | --- | --- |
| Provider | Transaction rates | Payout | Hardware fees | | | Contract | Selling point |
| Worldpay | 0.75% to 2.75% | 1 day | From £19 per month | | | Yes + exit fee | Accepted worldwide |
| Atoa | 0.6%, capped at £10 | Instant | £0 | | | None | The lowest fees, instant payout |
| PayPal | 1.2 to 2% + fixed fee | 3-5 days | £0 | | | None | Big user base, well known |
| Klarna | 2.49 % + £0.20 | 7 days + | £0 | | | None | Customers can pay later or by instalments |
| Sumup | 1.69% – 2.5% | 1 day | £39-129 | | | None | Lower fees |
| Square | 1.75-2.5% | 1 day | From £19 + VAT | | | None | Faster payout |
Things to do before adding your payment app
Hold a focus group: Use customers or employees to test the app. Process transactions, handle refunds, and try different payment methods to identify potential issues. This way, you can gather feedback for changes or training before going live.
Take notes: Encourage your test group to provide feedback on the payment app. Ask about any confusion or difficulties they encountered and use this input to make improvements before you go live.
Test compatibility: Does the payment app work seamlessly with your hardware and software? Compatibility issues can slow you down.
Spotlight on security: Pay close attention to data security during testing. Does customer data remain secure throughout the process?
Mobile payment apps in action – an Atoa success story
Want to see a real-life example of how mobile payment apps can transform businesses? Look no further than The Beauty Wardrobe. This Bradford-based beauty and aesthetics salon added Atoa's instant QR code and link payments to their flow, resulting in massively reduced fees and a 60-80% upturn in deposits.
Watch on to find out more…
FAQs
What is the best mobile payment app for a UK business?
The best mobile payment app depends on your specific business needs. Consider user-friendliness, fees, and integrations.
How do payment apps keep transactions secure?
Mobile payment apps use advanced encryption and security to keep financial information and customer data confidential. Many apps include biometric methods like fingerprint or facial recognition, which add an extra layer of protection by ensuring that only authorised individuals can complete transactions, making them more secure than card payments.
Can I use multiple mobile payment apps for my business?
Yes, but it's essential to manage them efficiently to avoid confusion for your employees and customers. You want payments to be super simple, and multiple apps might not provide that.
What should I do if I face technical issues with the app?
If you encounter technical problems with the app, check for updates. If problems persist, contact the provider's customer support to resolve the issue.