Wave away the old-fashioned hassles of carrying cash or debit cards, and say hello to a seamless, secure, and exciting payment experience using just a smartphone! Atoa is a cutting-edge cardless instant bank pay app redefining how UK businesses take payments.
This straightforward guide will educate you on how we simplify business payments. Whether you're a business owner seeking a smoother transaction process or a customer looking for a fair and hassle-free way to pay, Atoa has got you covered. So buckle up and prepare for the payment revolution.
Take seamless instant payments
Paying by card has become the norm, but can you imagine a future without using them?
We can.
This isn't just another app—it's a game-changer! There's no need to fumble for debit cards anymore. We offer a cardless solution that's fair for businesses and easy for customers to use, so you can enjoy the simplicity of taking instant payments in just a few taps. For businesses, this means smoother checkouts, happier customers, and more time to do things you love.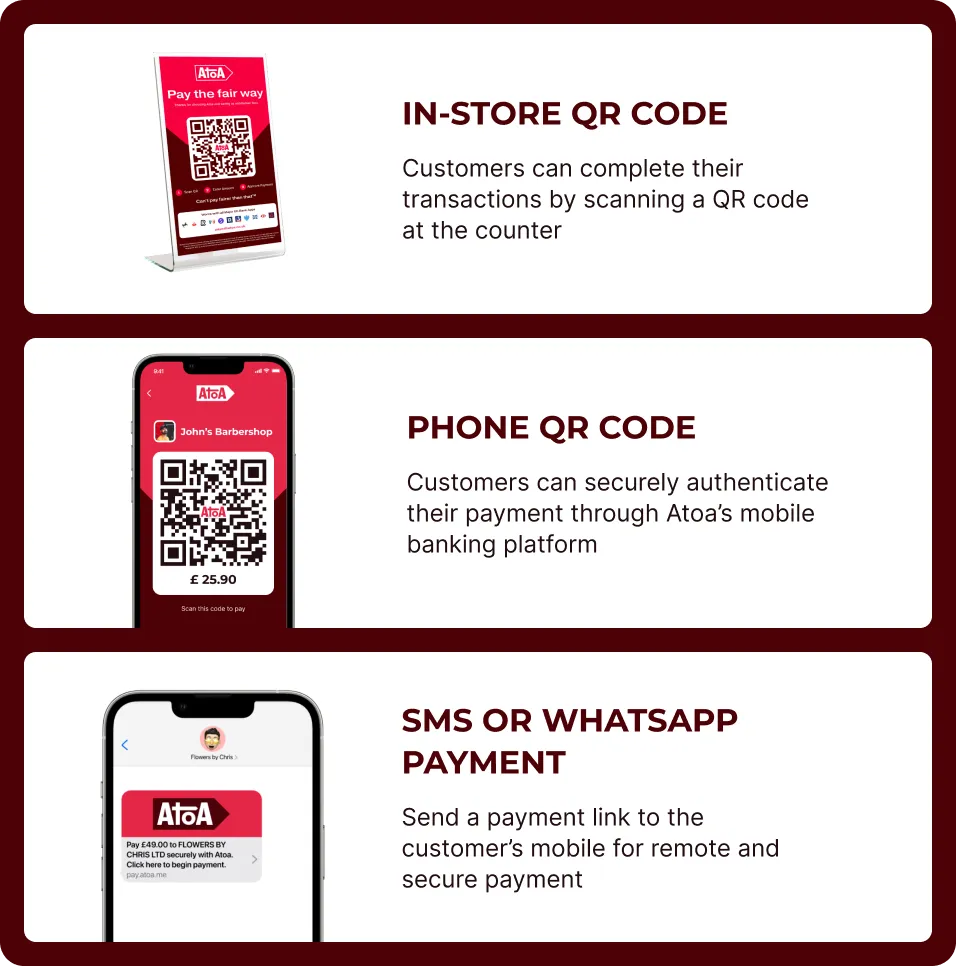 Take payments using QR codes
Read more about taking QR code payments here.
The benefits of going cardless
Fast: No extra hardware is required to pay, just a smartphone! Create an account in minutes and use our instant payment service without hassle. There's no need for card machines, and you get your funds within seconds.
Fair: Low fees are our bread and butter. By removing card processors, we can offer a maximum fee of 0.6% per transaction, billed monthly. You did the hard work. You deserve the reward.
Secure: Biometric security confirms payments in the customer's banking app. This reduces customer disputes and the potential for withdrawing funds from your account, meaning you can be paid safely without the risk of chargeback fees.
Atoa is easy to integrate into your business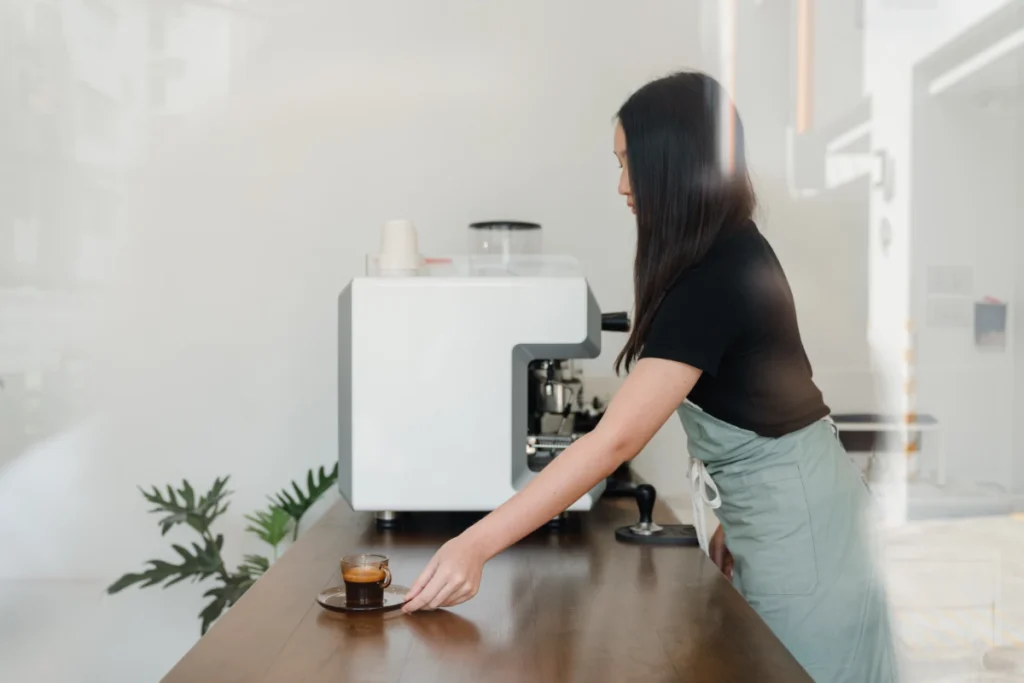 Are you thinking, "Atoa sounds wonderful, but how do I set it up?"
Taking payments has never been easier. From enhancing security to improving checkout experiences, Atoa empowers businesses and customers at every transaction step. Embrace the future of payment processing to unlock new possibilities for your business.
Frequently asked questions
Is Atoa safe and secure for transactions?
Atoa carries out all transactions with permission from the consumer's banking app, also known as account-to-account payments. Your bank details are protected throughout the payment process, ensuring a secure experience for all users. Additionally, businesses benefit from extra protection from chargeback risk as Atoa's security features offer higher protection from unauthorised use, such as lost or stolen contactless cards.
How can I integrate Atoa into my online store or website?
We now offer an Atoa WooCommerce plugin for WordPress, giving you the same fast, fair, secure payments you know and love. Visit our Knowledge Hub or contact our support team for step-by-step instructions on adding the plugin Atoa to your website.
What happens if I encounter any issues?
Our dedicated UK support team is here to assist you. Contact support at hello@paywithatoa.co.uk or start a live chat in your Atoa app.
Where can I download the app?
Download the Atoa app for Android and iOS devices from your smartphone app store and get 14 days of completely free transactions. Search for "Atoa – Instant Bank Pay" or follow the banner below to get started! After that, you'll be billed monthly at 0.6% of your successful transactions.
Contact our support team for further assistance, or book a live demo video call here.
Can't pay fairer than that!