Point of sale (POS) is essential for businesses of all sizes. The proof is in the pudding: in 2021, the number of POS terminals in the United Kingdom amounted to almost three million. Choosing the right all-in-one payment system can help take your operations to the next level!
This post will explain this retail technology, how it works, and the benefits of choosing the correct sales system.
What is POS?
POS stands for "point of sale." It's the system that businesses use to process sales transactions. This can include hardware like a cash register, barcode scanner, receipt printer and software such as an accompanying app or program.
These systems have evolved a lot over the years. Traditional cash registers lacked speed, accuracy and functionality, but modern options are now much more sophisticated; they can process payments quickly and easily, track inventory, generate reports and provide a better user experience.
But before you go out and buy any old digital payment system, here are a few things to consider…
Budget: Sales systems can range in price. Make sure you find one that fits your budget.
Business needs: What features are important to you? Do you need to track inventory, generate reports, or accept payments?
Business size: If you have a small or straightforward business, you may only need something basic.
Technical expertise: If you're not so tech-savvy, you'll want to choose a system that's easy to use.
A reliable retail system works even better when paired with innovative payment methods (wink!)
Why are point-of-sale systems essential for businesses?
They automate some of the day-to-day tasks involved in running a business, like processing payments, tracking inventory, and generating reports. They can also automatically calculate taxes and discounts and accept various payment methods, including debit cards and other mobile payments. This helps with many things, including easier checkout, less stretched staff and an all-around improved experience.
Benefits of using a POS system
The right system can be key to streamlining your business operations, regardless of size or industry. Here's a breakdown of the benefits they can bring to the table.
No more waiting in line! Transactions become smoother and faster for both your customers and your staff. Tap, swipe, done!
Everything is on point: Human errors are a buzzkill for everyone involved. Checkout systems reduce the chances of mistakes in pricing and inventory in your day-to-day operations.
A little something called Customer Relationship Management (CRM): It's about more than just sales. Intelligent payment systems keep track of purchase histories, helping you tailor special offers and offer loyalty schemes that customers will love.
Happy customers are loyal customers! A fine-tuned system ensures a smoother payment experience. Reward your regulars with built-in loyalty scheme features, and watch them return for more.
A POS system isn't just another tool – it's your secret weapon for retail success!
Different types of POS systems
A whole host of point-of-sale systems is available, each with its own features and capabilities.
Here are the most common types you're likely to encounter:
Traditional systems are installed on-site and require a dedicated server. They are usually more pricey than cloud-based systems but provide more control over data and security.
Cloud-based systems are hosted online and can be accessed anywhere with a decent connection. They often sit at a more accessible price point.
Mobile systems are designed for tablets and smartphones. They are an ideal fit for businesses that take payments on the go.
Self-service payment screens or kiosks allow customers to place orders and pay for their purchases without a cashier. Perfect for businesses that want to improve customer service and reduce wait times.
The best choice for your business will depend on its specific needs and budget. A traditional system may be a good route if you're looking for bespoke features. Consider a cloud-based option if you're on a budget or need an easy setup.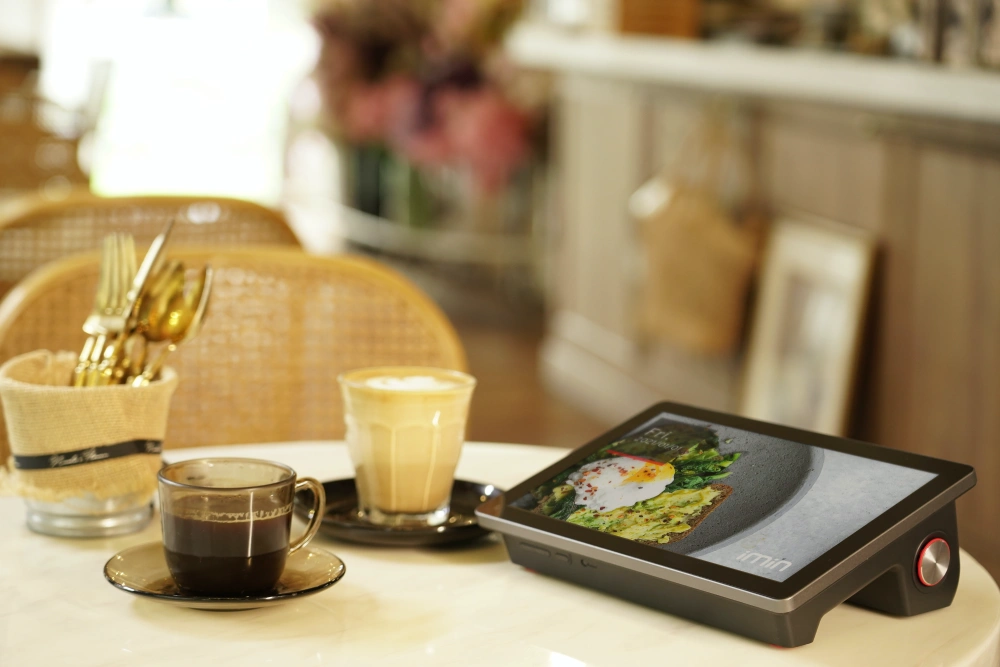 Choosing the right one
Now that you know how payment systems work, it's time to find your perfect match! But consider these pointers before you dive into anything serious…
Business size and type
Are you a cosy cafe, a bustling clothing store, or a hyped restaurant? Your retail system choice should cater to your industry and the customer demographic.
Mind your budget
Mindful of your overheads? Set a strict budget and find a POS system that doesn't break the bank. Remember, it's an investment in efficiency.
Integrations
Consider how your new tech interacts with your other business tools. Can it sync up with your accounting software or support alternative payment methods?
Support and training
Check if the tech provider offers reliable customer support and training. You'll want assistance whenever you have questions or run into problems.
Hopefully, now you have a better idea of what aligns with your needs, fits your budget, and collaborates with your existing tools to make day-to-day operations a little more slick…
Alternatives to traditional systems
Do your payment research, and you'll quickly find several alternatives available, offering a variety of benefits, such as increased flexibility, security, and customer convenience.
Contactless payment systems allow customers to pay for purchases by tapping their credit or debit card on a reader. They are a good option for businesses that want to make it more convenient for customers to pay.
Mobile wallets allow customers to store credit or debit card information on their mobile devices to pay for purchases. Mobile wallets are a good option for businesses that want to offer a more convenient and secure payment option.
Explore open banking payment methods, such as QR codes for customers to scan and pay. Perks include speed, convenience, and less time running around with card machines and readers!
As customer preferences change, businesses must adapt to stay relevant by offering payment options and technologies that meet their customer's needs. In turn, this can improve customer experience and boost sales.
FAQs
You've got questions, and we've got answers. Let's dive into some common queries about POS systems:
What are the costs associated with these systems?
The price tag depends on various factors, such as the amount of added features. You can find budget-friendly options for small businesses and more wide-reaching solutions for larger operations. Look for a payment solution that lets you add multiple businesses and locations, maybe?
How secure are payment systems?
Most modern checkout systems encrypt transactions and protect customer data. However, choosing a trusted provider and keeping your software updated for full coverage is essential.
Can retail systems integrate with other business software?
Many systems are designed to collaborate with other business software. They can integrate with accounting software, inventory management tools, and even e-commerce platforms. Choosing the right one can make your life easier!
Which industries benefit from this technology?
Retailers, bars and restaurants, cafes, shops, dealerships and even service-based businesses like beauty and aesthetic clinics can benefit from the right point of sale.
How user-friendly are checkout systems for small business owners?
They often come with intuitive interfaces and user-friendly features. However, it's always a good idea to make sure training is in place for your team to make the most of what it can do.
There you have it – the answers to some burning questions about POS systems! Are you ready to switch or take on your first checkout solution?
Atoa Business ticks quite a few boxes and definitely doesn't break the bank. Our fast, fair and secure payments cut out the middlemen to bring you instant access to funds without steep fees. Download the app on the banner below, and we won't charge you any fees in your first 14 days.